Santa is on his way, which means Jim Brickman is too with his annual holiday concert tour.
This includes Toledo for a 3 p.m. Sunday show at the Stranahan Theater, 4645 Heatherdowns Blvd., with his new program "A Joyful Christmas," featuring a mix of classics and original songs and a few surprises. For tickets and more info, visit stranahantheater.com or call 419-381-8851.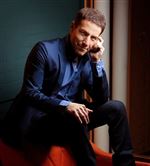 Jim Brickman brings his holiday concert tour to Toledo on Sunday.
Jeff Klaum Enlarge
Brickman was born and raised in Cleveland, and Toledo was one of the first stops for his first Christmas show two decades ago. In town in early November for a round of media interviews, the Grammy-nominated pianist and songwriter stopped by The Blade, where he chatted about many things, including:
On the genreless and apolitical appeal of Christmas music: "I think what's so great about Christmas music is that it really is just nostalgia. It doesn't have any confines around it. It's sort of non-judgmental in so many ways. I've always written new original Christmas songs because I feel like I can do an amazing version of 'Jingle Bells,' but why? (He laughs.)
"We get some resistance from that from radio stations, 'No, we just want to play 'Rudolph,' and 'Santa Claus is Coming to Town,' and 'White Christmas,' and everything. But I try and break through, and I've always had a lot of success with original Christmas songs."
The keys to writing not only a good Christmas song but one that will have a longer life than the year's hottest toy: "Simplicity is the key to a lot of it. The right pairing of the right vocalist. For example, two years ago I had a song with Johnny Mathis. My writing. Johnny Mathis. It's Christmas. You know what I mean?
"Most people when they write original Christmas songs gravitate to the look and the feel: Santa down the chimney, presents under the tree. I like to write about people during the holiday time.
"'The Gift' is just a love song about the gifts we give each other that are not the material things, but it takes place during the holiday time. We're sitting by the fire, the snow is falling, and I just want you to know how much I appreciate you in my life, and really the only gift I want in life is you. Which is a common theme, but if you make it romantic, there's not a lot of Christmas songs that do that.
"So I feel like so much of it has been done and said. You want to think about some thing that hasn't been done. For example, last year I decided to write a very lighthearted song. It's called 'Hitch a Ride.' It's very happy and bubbly, and it's about maybe I'll ask Santa for a ride to come see you 'cause you're so far away, so I'm going to hitch a ride with Santa Claus, then he'll drop me off to see you before he goes on his way."
His new Christmas single, 'Christmas Where You Are,' featuring Five for Fighting: "'Christmas Where You Are' [is] about no matter how far away you are from the people that you care about, Christmas is something that is really inside. It's the way we feel about nostalgia, and family, and friends. And so when you pair that with a thank you message for the men and women of the military who are so far away, the message in this particular song is thank you for everything you do.
"A lot of times people will use this generic 'the military' and it doesn't have a face. They're over there fighting, and most people don't know what for. I think it's not as much about the politics of it as much as it is saying, 'Wow, what you've given to do this and what you've give up.' We just want to say, 'We know you're there and thank you, and it must be really hard to be away from home this holiday season.'
"... And you know, who doesn't like a nice, tearful, powerful military tribute song?" (He laughs.)
Contact Kirk Baird at kbaird@theblade.com or 419-724-6734.
Guidelines: Please keep your comments smart and civil. Don't attack other readers personally, and keep your language decent. Comments that violate these standards, or our privacy statement or visitor's agreement, are subject to being removed and commenters are subject to being banned. To post comments, you must be a registered user on toledoblade.com. To find out more, please visit the FAQ.