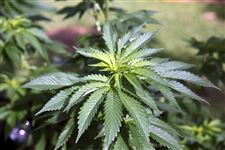 Please keep Temperance drug free, asks letter writer Ken Konoff.
ASSOCIATED PRESS Enlarge
Former Michigan State Police officer Logan Tisdale is correct in saying that we do not need a medical marijuana facility in Bedford Township (Jan. 8, "Bedford Twp. weighs options on marijuana").
There are plenty of facilities nearby — Monroe and Toledo — for people to get their marijuana.
Please keep our community drug free.
KEN KONOFF
Temperance, Mich.
Click here to submit a letter to the editor | View the Behind The Readers' Forum series
Norwegians not coming to U.S.
A few minutes spent on the Internet would shed some light on why people from Norway aren't interested in moving to the United States.
According to the CIA World Factbook, maternal mortality in the U.S. is nearly three times as high as in Norway (14 per 100,000 versus 5 per 100,000 in Norway), while infant mortality is more than twice as high in the US (5.8 per 1,000) as that in Norway (2.5 per 1,000).
All of Norway's hospitals are funded by the public as part of the national budget, and everyone under the age of 16 receives free health care. Even then, citizens over the age of 16 pay an average annual deductible of about $245, which entitles them to free health care for the remainder of the year.
Norway also provides free college tuition — undergraduate, masters, and PhD — for everyone, including international students.
It seems that Norway holds all of its citizens in high regard. I don't feel the same about the United States.
FRANK ATEN
Fremont
Republicans need to do what's right
The question is not when will President Trump stop making racist and stupid remarks, but when will the Republicans in power condemn the statements?
By their silence, they are complicit in the remarks that have no place in our society. I think they would rather continue to feed at the government trough than stand up for what is right.
THOMAS POMEROY
Waterville
Follow @BladeOpinion on Twitter.
Guidelines: Please keep your comments smart and civil. Don't attack other readers personally, and keep your language decent. Comments that violate these standards, or our privacy statement or visitor's agreement, are subject to being removed and commenters are subject to being banned. To post comments, you must be a registered user on toledoblade.com. To find out more, please visit the FAQ.