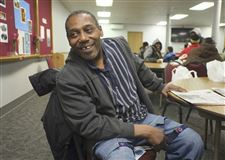 Danny Brown is pictured in 2015 at St Paul's Lutheran Church in Toledo.
THE BLADE/DAVE ZAPOTOSKY
Enlarge | Buy This Image
I recently read that Danny Brown "spent 19 years in prison for a 1982 murder conviction that was later reversed based on new DNA evidence" (Feb. 10, "Man's wrongful-imprisonment lawsuit dismissed"). The Blade reported that Judge Gene Zmuda "… granted the state's motion for summary judgement, saying Brown had failed to file his claim within the statute of limitation."
What's wrong with Danny Brown being justly compensated for being wrongfully imprisoned for 19 years? Why would a prosecutorial system that jailed him wrongfully for 19 years use a court action to prevent him compensation after being released? Exactly who's pocket would a penny come from if Brown was compensated?
RELATED: Danny Brown deserves justice | The law is mocked
A legal question to be asked of Lucas County prosecutor Julia R. Bates is whether the compensation sought by Brown is required by enacted law to be challenged and outright denied?
In 2018, Lucas County voters will be asked to approve a levy forever as a tax against their property to support building a new jail. A new jail is wanted, but it will cost approximately $145 million. There is, understandably, anger at the possibility of this levy.
But when a person is jailed wrongfully for decades, there is not a word in the media from any elected political official advocating for true justice. No politician has called for compensation for Brown, and no laws have been questioned or changed to afford compensation owed to an individual jailed for 19 years by a tragic miscarriage of justice.
EARL MURRY
Maumee
Editor's note: Earl Murry is a former professor of education and vice-provost at the University of Toledo.
Click here to submit a letter to the editor | View the Behind The Readers' Forum series
NRA blamed for the actions of others
The NRA is the only organization in America that gets blamed for actions none of its members commit.
Any serious solution to gun massacres must include hardening potential targets like we do at airports and government buildings. We seem to go out of our way to kid ourselves that just calling a space a "gun free zone" makes it safe. Ninety-eight percent of gun massacres have taken place in these ubiquitous gun free zones. These are the most dangerous places in America when a lunatic blows his stack.
Since the Parkland massacre, civil libertarians are being overwhelmed by massive virtue-signaling and political correctness from the left. Evidence-based common sense on how to protect innocent people from gun violence is being described as heartless and callous, while the actual failures by a series of government agencies that failed to prevent the Parkland massacre are being swept under the rug.
The problem with such emotional incoherence is that adding any restrictions — raising age limits, more stringent background checks, banning bump stocks, banning AR-15 rifles — will inconvenience, impede, and disarm only law-abiding people, with no effect on the bad guys and lunatics who can buy their weapons on the street, illegally.
Mental health issues need treatment for their own sake, but the individual must agree, which is a catch-22, because one symptom is refusing treatment. However, they, too, can acquire guns illegally.
Let's get serious about protecting innocent lives. Let's ban the deceptively dangerous gun free zones or protect them like we protect our airports and government buildings.
MARIO GOVEIA
Perrysburg
Work to protect our climate
I appreciated Matt Markey's article on the sad condition of fisheries in my region, the northeast (Feb. 26, "Impact of warming seas felt by northeastern fisheries.")
Almost daily, we see articles about warming oceans destroying our fishing and outdoor sports industries. Newspaper articles cover why warmer waters impede fish abilities to detect predators, and how warmer waters interfere with fish fertility, and why consumers don't buy the new, unfamiliar fish that local fish markets now try to sell.
It's unfair that coal, oil, and gas companies are allowed to kill our fishing industry without facing any serious repercussions. Fossil fuel industries also threaten our tourism businesses as warmer weather kills off the trees that underlie our once-booming maple syrup industry. Warmer weather also thwarts our fall tourism because leaf-peeping opportunities begin later, and feature less spectacular colors. Year round, hikers see our forests declining in health and tree varieties.
Our winter tourism is suffering too — with less snow for ski resorts, and less ice for ice fishing.
Kudos to Rep. Marcy Kaptur for joining the House Climate Solutions Caucus. Here's hoping the caucus sponsors and enacts climate legislation soon, and that voters throughout Ohio decide this year to only vote for candidates — at federal, state and local levels — who'll support serious climate legislation.
JUDY WEISS
Brookline, Mass.
Listen to the students
The students at Marjory Stoneman Douglas High School, many of whom lost their friends in a senseless act of violence, have made significant strides in getting the nation's attention focused on the importance of sensible gun control legislation. If you think they seem too strident in demanding action to prevent further school carnage, think again.
The National Rifle Association has deflected the students' comments, claiming that any gun control could undo the Second Amendment. This is false.
If automatic and semi-automatic assault weapons were no longer readily available to the general public, it would likely prevent many future mass shootings. Listen to the kids. It is necessary they stay strong and focused in the face of the formidable and wealthy NRA.
FRED MOOR
Grand Rapids, Ohio
Follow @BladeOpinion on Twitter.
Guidelines: Please keep your comments smart and civil. Don't attack other readers personally, and keep your language decent. Comments that violate these standards, or our privacy statement or visitor's agreement, are subject to being removed and commenters are subject to being banned. To post comments, you must be a registered user on toledoblade.com. To find out more, please visit the FAQ.