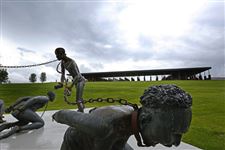 Part of a statue depicting chained people is on display at the National Memorial for Peace and Justice, a new memorial to honor thousands of people killed in racist lynchings in Montgomery, Ala.
ASSOCIATED PRESS Enlarge
On July 7, 2015, The Blade ran a story about the state of Alabama removing the Confederate Flag from its' state seal ("Mobile, Alabama, removing Confederate flag from city seal"). In the article, Levon Manzie, a councilman for the city of Mobile, said the following: "We believe it's important for a city that is as progressive and international as the city of Mobile is becoming to make certain that we get rid of any vestiges of one of the most oppressive and regressive time periods in this city and this country's history."
RELATED: Alabama monument is a testament to America's darkest time
In the April 28, 2018, edition of The Blade, the story "Lynching victims' memorial to open" is once again reminding all of us how cruel and degenerating our behavior was during the times of slavery. So, why does the memorial depict slaves in chains? Aaccording to the Equal Justice Initiative advocacy group, the memorial is "dedicated to racial terror lynchings of African Americans and the legacy of slavery and racial inequality in America."
This brings to mind the old proverb "you can't have it both ways." Either remove all things from that period of time, such as the flags and monuments, or display all things from that period of time and allow history to remind us that all people can commit unimaginable atrocities against one another.
By accepting our history and using it to better ourselves, we can grow as a stronger and united country. We took a stand against the Holocaust atrocities and we teach it in our schools the same can be done with slavery.
PAUL SMITH
Perrysburg
Click here to submit a letter to the editor
Dems need to cross the aisle
Representative Jim Jordan is a person who appears to be tired of the extreme left being "resistive" on a lot of good things that Congress is trying to achieve. The Republicans won the House, the Senate, and the presidency largely because the previous president, a Democrat, was pushing our country further and further left, too far for the average American.
The Democrats need to cross the aisle, work with the Republicans, and stop complaining.
RON SNYDER
Bowling Green
Guidelines: Please keep your comments smart and civil. Don't attack other readers personally, and keep your language decent. Comments that violate these standards, or our privacy statement or visitor's agreement, are subject to being removed and commenters are subject to being banned. To post comments, you must be a registered user on toledoblade.com. To find out more, please visit the FAQ.