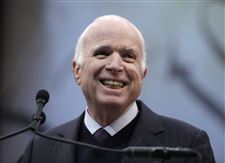 John McCain, a 31-year veteran of the U.S. Senate and a Vietnam War hero, died Saturday after battling brain cancer. He was 81.
ASSOCIATED PRESS Enlarge
In 2002, I wrote an op-ed in my hometown newspaper, just before the election, that was very critical of the Republican Party and their policies. Later on, at a fundraiser, I met Sen. John McCain. He had just shook my hands and moved on, but turned and stepped back to ask me whether I wrote the harsh article about the Republicans. He stayed and talked to me for 10 minutes, over a glass of wine. As a government contractor, my job required discreetness in my political views. But still, I became one of his admirers and supporters. I spoke to him several times after that.
Over the years, Mr. McCain made few errors, but on the whole, he spent his entire life in the most honorable service to our country. That's a rare résumé. The disrespect President Donald Trump has shown him was and is unacceptable to the vast majority of the Americans, and especially distasteful to those of us who personally knew Mr. McCain. When we consider the actions of both men during the Vietnam War period, Mr. McCain dwarfs President Trump by a hundred feet.
Believe me when I say: I know John McCain, and Donald Trump is no John McCain. Today, we mourn the loss of one of the great American heros. May he rest in peace.
SIVADASAN MADHAVAN
Sylvania
Click here to submit a letter to the editor
Hit church's pocketbook
In view of the ongoing pedophilia issue within the Catholic Church, and as a lifetime member of the church, I write to suggest a possible stand a member might consider until some very definite, verifiable action is taken by the church to rectify past abuse and the cover-ups of these crimes (Aug. 21, "Pope condemns sex abuse by priests").
I intend to limit my monetary support until all credibly accused perpetrators in the Toledo and Detroit Diocese, along with their photographs, are publicly displayed, their current status in the church provided, and their removal from ministry and any church action is taken and published.
Until there is some definite action, the church will be subject to continuing skepticism and scrutiny, rightly so. Naming every one of the credibly accused offenders would also draw attention away from the many blameless, dedicated clergy, who are often unfairly viewed cynically by so many of the general public.
Maybe taking a pocketbook stand will encourage real church action once and for all.
CHRISTINE HUMPBERT
Temperance, Mich.
Guidelines: Please keep your comments smart and civil. Don't attack other readers personally, and keep your language decent. Comments that violate these standards, or our privacy statement or visitor's agreement, are subject to being removed and commenters are subject to being banned. To post comments, you must be a registered user on toledoblade.com. To find out more, please visit the FAQ.