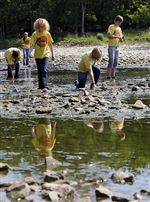 Volunteers from Toledo ZooTeens take part in last year's river cleanup.
The Blade/Amy E. Voigt
Enlarge | Buy This Image
When that glacial cap finally came off the Maumee River recently and started a push of water coursing toward Lake Erie, there was a lot more than chunks of ice being carried by the surge. The high, fast water latched on to an assortment of downed trees, trash and debris of every description.
As the water recedes, a lot of that flotsam and jetsam from the Maumee's first spring flush will be left littering the near-shore areas. A brigade of volunteers plans to sweep some of the more popular public sites along the river this weekend and remove what the river has chewed up and spit out.
"We expect to find a lot of everything," said Ava Slotnick, the outreach coordinator for Perrysburg-based Partners for Clean Streams, which is sponsoring the cleanup, in conjunction with Bass Pro Shops and Metroparks.
"Because of the massive amount of ice, we have no idea what all will make its way down here, but we expect to see a pretty wide variety of things. That floodwater has a lot of power, and it can drag just about anything down the river."
The Maumee River has many opportunities to pick up floating rubbish. Starting its journey across the Indiana line in Fort Wayne, the Maumee pushes more than 130 miles on its way to Lake Erie, and has the largest drainage area of any Great Lakes river at 8,316 square miles. Its watershed encompasses all or part of at least 18 Ohio counties, with the Maumee and its tributaries winding through Lima, Van Wert, Findlay, Defiance, and Napoleon before reaching Waterville, Maumee, Perrysburg, Rossford, and Toledo.
Past cleanups have found deck parts, lawn furniture, golf balls, floating toys, lumber, picnic tables, coolers, and countless smaller items scattered along the flood plain, or lodged in the trees and other vegetation that line much of the banks of the Maumee.
"When the water level drops, it dumps much of the trash away from the main river channel," Slotnick said. "The rocks and trees catch a lot of this material, so our hope is that the timing is right and we will be able to remove a great deal of the flooding trash. Just about anything that can be used in a household or a yard, we find in our cleanups."
Partners for Clean Streams hopes to recruit a lot of anglers. Once the ice came off the river, fishermen immediately showed up to pursue the walleyes that move up the Maumee from Lake Erie each spring. The Maumee River has the largest spring walleye run in the Great Lakes region, and it attracts thousands of anglers from many states.
The "2nd Annual Walleye Run River Clean Up" event will run from 7 a.m. to 4:30 p.m. on Saturday and Sunday. The Partners for Clean Streams group will be passing out trash collection bags at the Rotary Pavilion at Side Cut Metropark. Prizes donated by Bass Pro will be awarded to those who take part in the weekend cleanup.
"We want to share the message with all of the anglers that a clean, clear, and safe river benefits everyone," Slotnick said. "It takes a collaborative effort to get this done."
Slotnick said that volunteers are asked to return the filled trash bags to the pavilion, and that anything that can be recycled will be recycled, including the masses of old fishing line and lead-headed jig lures that are picked up. Although very small in size compared to some of the junk that gets lodged in the rocks or trees, the line and hooks can be some of the most dangerous.
"That's one of the biggest issues, is getting the line and hooks out of the river," Slotnick said. "Those things can harm our wildlife. We've found fish and birds that have died due to getting tangled up in discarded fishing line."
She also stressed that cleaning up the trash and debris before it gets to Lake Erie is critical, since it is much more difficult to remove once it reaches the lake.
"Just in terms of aesthetics, it is important to clean up our river and keep it that way," Slotnick said. "The river is there for everyone to enjoy, and no one wants to look at a bunch of trash along something as beautiful as the Maumee River."
RIVER RUN UPDATE: The warmer weather over the past couple of days has brought the anglers out in droves. Maumee River watcher Joseph Roecklein reports that the parking lot at Orleans Park was full, and the action is starting to pick up. The river was at 40.5 degrees Monday, according to Maumee Tackle, with more walleyes being taken at the traditional spring sites. As the water temperature rises, expect the success rate to spike. On the Sandusky River in Fremont, Bernie Whitt from Anglers Supply said Monday afternoon that the fish were really "putting a big move on" and that some limit catches were being taken between the bridges downtown. The water was at 41.5 degrees Monday, and the flow was normal, according to Whitt.
Reminder: the daily bag limit for walleye through April 30 is four, and the minimum size limit is 15 inches.
Contact Blade outdoors editor Matt Markey at: mmarkey@theblade.com or 419-724-6068.
Guidelines: Please keep your comments smart and civil. Don't attack other readers personally, and keep your language decent. Comments that violate these standards, or our privacy statement or visitor's agreement, are subject to being removed and commenters are subject to being banned. To post comments, you must be a registered user on toledoblade.com. To find out more, please visit the FAQ.