OAK HARBOR — As the ninth edition of The Biggest Week in American Birding festival comes to a close Sunday afternoon, there will be no boisterous round of high-fives, no champagne toast, and nobody hanging the "Closed" sign at the gates to the prime bird habitat across the region.
Many of the birds are still here and more are yet to come, and the driving force behind the 10-day extravaganza is already working on next year's event, and the relentless effort to protect, restore, and enhance the precious habitat that allows the whole production to take place.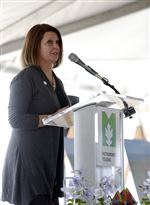 Carey native Kim Kaufman is the executive director of the Black Swamp Bird Observatory, and along with that organization has put together The Biggest Week in American Birding festival, which wraps up its ninth year on Sunday.
The Blade/Amy E. Voigt
Enlarge | Buy This Image
"That effort never stops," said Kim Kaufman, the executive director of the Black Swamp Bird Observatory, which created the festival and continues to play the role of primary sponsor/​organizer/​promoter of the event. "We want to see this keep growing and keep spreading the word about the importance of conservation."
Check out all The Blade's coverage of the Biggest Week in American Birding
That mission statement is repeated dozens of times throughout the year as Kaufman reaches out to a wide spectrum of clubs, groups, schools, politicians, and businesses in the area, encouraging them to be part of making the Biggest Week's message a 12-month crusade.
When the notion of having a mega birding festival was hatched, Kaufman decided to get a bunch of partners together, put up a huge tent, and then swing the doors open and invite everyone in. And it has worked. Last year, the weeks bracketing the festival brought an estimated 90,000 visitors to the area, and they provided an economic impact of around $40 million.
With Kaufman again in the role of the high-energy organizer, this year's festival will likely blow up those numbers.
"Kim was the quarterback you needed to get all of the various parties together to make it all work," said Larry Fletcher, president of Lake Erie Shores & Islands tourism bureau. Local, state, and federal entities, along with national conservation groups; area restaurants, hotels, and merchants; international tour companies, and the Lake Erie Shores and Destination Toledo convention and travel outlets are all involved.
"Biggest Week is one of the most amazing and magical birding events I've ever experienced," said Stacy Tornio, the former editor of Birds & Blooms magazine. "The way the community comes together to pull off this event is wonderful. There's such pride in every corner, and it feels like such a warm, welcoming place. Kim Kaufman has done so much for the area and the birding community."
Kaufman's passion for birds and championing their habitat came about through an unscheduled introduction. As she sat waiting for an appointment in an office in her hometown of Carey, Kaufman looked out the window and saw a group of brightly-colored birds perched on a feeder. Shocked by their beauty and brilliance, she asked what those were, and was told that they were goldfinches, a common bird in the region.
"I couldn't believe it. I grew up on a farm and was outside every waking moment, and I had never even noticed the birds that were around," she said. "Then here I am in my late 20s, seeing these for the first time. The entire course of my life changed at that moment. ... I had to find out what else was out there."
Soon she was buying books on birds, putting up feeders, and spending hours observing a Seneca County bald eagle nest. A wildlife officer noticed her taking notes and suggested she volunteer with the Ohio Division of Wildlife. That introduced her to Mark Shieldcastle, who was directing the volunteer program, and was also a founding member of Black Swamp Bird Observatory. Quickly sensing her passion for the work, Shieldcastle brought Kaufman into the BSBO fold, and things took flight from there.
"The observatory was founded as an outlet to get information to people," said Shieldcastle, a now retired wildlife biologist who spent his career working along Lake Erie and currently serves as the research director for Black Swamp Bird Observatory. "Kim came on and took that to a whole new level."
Kim, who is married to naturalist, avian expert, and author Kenn Kaufman, has been with the observatory for two decades and has been on a mission to bring birders from all over the world here to northwest Ohio to experience and enjoy the incredible birding opportunities the region offers, while at the same time breaking the stereotypical birder mold.
Historically, it has been a predominantly white, older, and more affluent crowd. Kaufman is working on building a bigger tent, and adding more doors — young birder programs, birder diversity outreach, educational efforts, and myriad other measures.
"What I love about Kim is how she makes birding so approachable for all walks of life," Tornio said. "It doesn't matter how much experience or knowledge you have, she welcomes you with open arms."
Scott Carpenter from Metroparks Toledo has witnessed and admired the Kaufman blitz, as she has wooed numerous partners into the conservation fold and seen to it that every entity is promoted for the good of the overall cause — birds and habitat.
"Businesses throughout the area have embraced Biggest Week," he said. "The migration has always been here, but what was missing was someone like Kim. Her tireless advocacy has either inspired people or worn them down. Either way, it's a victory for tourism and conservation."
Tornio is another fan of the marketing evangelism approach Kaufman has used to increase the awareness of our area's critical role as a way station along one of North America's primary migration routes, and a place where resident species are also super dependent on good habitat.
"Birds are all around us every single day, and this event makes people take notice," Tornio said. "Kimberly Kaufman has definitely had a huge part in this. Her passion is infectious, and her love of nature is incredible. I'm so happy Biggest Week was introduced to my life. I know without a doubt that it has made me appreciate birds at a whole new level."
For Kaufman, that was the plan from the start.
"I have this love and appreciation of birds, and it's something I just want to share with as many other people as possible," she said. "And if you care about something that much, it makes sense to want to tell the world about it."
Contact Blade outdoors editor Matt Markey at: mmarkey@theblade.com or 419-724-6068.
Guidelines: Please keep your comments smart and civil. Don't attack other readers personally, and keep your language decent. Comments that violate these standards, or our privacy statement or visitor's agreement, are subject to being removed and commenters are subject to being banned. To post comments, you must be a registered user on toledoblade.com. To find out more, please visit the FAQ.