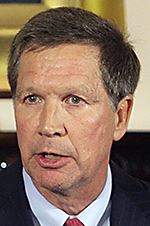 Kasich.
AP Enlarge
COLUMBUS — The fight over Ohio's decision this week to partner with the federal government to expand Medicaid has again placed anti-abortion organizations on opposite sides of an issue.
The statewide Ohio Right to Life had joined with Gov. John Kasich, business groups, doctors, hospitals, unions, social service agencies, and even its nemesis Planned Parenthood to push for expansion of Medicaid under the federal Affordable Care Act.
But Cleveland Right to Life and Right to Life of Greater Cincinnati this week joined six Republican lawmakers who've sued in the Ohio Supreme Court to overturn Monday's vote by a budgetary panel to accept $2.56 billion in federal funds to pay for expansion.
Paula Westwood, executive director of the Cincinnati organization, said it amounts to a disagreement over government tactics, not the organizations' overall mission.
"We're united in caring for the poor," she said. "It's womb to tomb, whether it's the elderly, unborn, mothers, or fathers. We disagree on strategy, just like any political party or church. Cleveland and Right to Life of Greater Cincinnati were outspoken opponents of Medicaid expansion, so this is no surprise."
Although it supported expansion, Ohio Right to Life has no plans to weigh in as a party to the litigation.
"We applaud Gov. Kasich for his position to put women, health care, and the disabled ahead of politics," said President Mike Gonidakis. "Anyone can sue anyone. This is about legal procedures, not the mission of Ohio Right to Life."
Mr. Kasich on Friday connected the expansion with women's access to mammography and pap smear exams as he pledged that the state would match 3 to 1 Ohioans' contributions for breast cancer services via a new check-off box on their income tax returns.
"Medicaid expansion is going to help them," he said. "There's no question about it. We're now going to be able to help [350,000] Ohioans who, up to now, have not been able to have health insurance."
Jerry C. Cirino, chairman of Cleveland Right to Life, said this disagreement over Medicaid should not misconstrued as a rift similar to one the Ohio Right to Life and the Cincinnati group had on the Heartbeat Bill, which would ban abortions as soon a fetal heartbeat is detectable.
"We disagree on this issue. They don't speak for us, and we certainly don't speak for them," he said. "But we do share and continue to share a commitment for protecting life as our core issue."
Mr. Cirino noted the lawsuit is not about the expansion itself, although the organization also opposes that.
Guidelines: Please keep your comments smart and civil. Don't attack other readers personally, and keep your language decent. Comments that violate these standards, or our privacy statement or visitor's agreement, are subject to being removed and commenters are subject to being banned. To post comments, you must be a registered user on toledoblade.com. To find out more, please visit the FAQ.