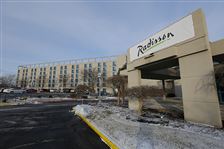 The new Radisson sign has gone up at what was formerly the Hotel at UTMC, on the campus of the former Medical College of Ohio.
THE BLADE/ANDY MORRISON
Enlarge | Buy This Image
The Hotel at the University of Toledo Medical Center is now affiliated with Radisson Hotels, nearly a year to the day the hotel lost its affiliation with a different national chain.
Radisson announced Tuesday that the 212-room South Toledo hotel is now a part of its chain. The building will be called the Radisson Hotel at the University of Toledo.
The new affiliation is good news for a hotel that's faced troubles.
The hotel, built on land that belongs to the UT Medical Center, the former Medical College of Ohio, lost its affiliation with the Hilton chain on Jan. 1, 2013, and, shortly afterward, was renamed the Hotel at UTMC.
On March 27, lender U.S. Bank National Association initiated foreclosure proceedings and sued owner Grace Chojnowski-Kellogg's firm, Amazing Grace Hotels LLC, after it stopped making monthly payments in February on a $9.3 million loan.
TOOH Associates LLC was court-appointed as receiver of the hotel and will continue in that role, said Dina Lomagno, regional vice president of sales and marketing of GF Management, a Philadelphia-based hotel management firm that announced the Radisson affiliation.
A spokesman for Carlson Rezidor Hotel Group, which owns Radisson, said the company had not planned to announce the affiliation until after the new year, though the company began taking reservations for the hotel Tuesday.
Among upgrades Radisson will bring to the hotel will be 39-inch HD televisions, new beds, and new lobby decor, furniture, and lighting, according to a company release. Final upgrade details are still being worked out, Ms. Lomagno said, but improvements should be made to the restaurant and meeting rooms. No staffing changes are planned, she said.
Amazing Grace fell into violation in March with a lease agreement with the University of Toledo because it stopped paying rent and lost its franchise affiliation. The court-appointed receiver has been making rent payments, said Larry Burns, UT vice president for external affairs, and the Radisson affiliation now puts the hotel in full compliance with the lease.
"We obviously want the hotel to be successful," Mr. Burns said. "We are delighted it is now a Radisson."
Attempts to reach a TOOH representative were unsuccessful. Conversations between Radisson and TOOH appear to have been ongoing for several weeks, according to management reports the company had submitted to court.
The hotel is now Toledo's second Radisson-affiliated entity. Downtown's Park Inn was built as an upscale Radisson hotel in 1987, but in 2006 it was rebranded as a midscale Park Inn, part of the Carlson Rezidor Hotel Group.
Contact Nolan Rosenkrans at: nrosenkrans@theblade.com or 419-724-6086, or on Twitter @NolanRosenkrans.
Guidelines: Please keep your comments smart and civil. Don't attack other readers personally, and keep your language decent. Comments that violate these standards, or our privacy statement or visitor's agreement, are subject to being removed and commenters are subject to being banned. To post comments, you must be a registered user on toledoblade.com. To find out more, please visit the FAQ.