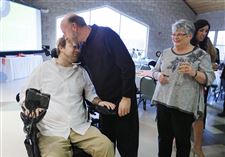 Jeremy Bigelow gets a hug from Terry Moebius at his Ain't No Mountain High Enough benefit at St. Joseph Parish in Sylvania on Saturday. At right is Mr. Moebius's wife, Karen Moebius.
THE BLADE/ANDY MORRISON
Enlarge | Buy This Image
Through thick and thin, the saying goes about the tenacity of friendships to last through life's ups and downs. Few can attest to the vitality of that personal bond like Sylvania native Jeremy Bigelow.
At 30 Mr. Bigelow, a former Northview High School hockey and football player, is spry, optimistic, and determined to reach his goals in life and his friends support him every step of the way. However, his goals differ from an average young man in the prime of his life.
"Getting out of this chair, running again ... being on the ice. The smell of the ice, you never forget when you go in an ice rink," he said about his dreams.
Mr. Bigelow, who now lives in Holland, was in a car accident in Ocober, 2010, that left him paralyzed from the neck down. As a result of his spinal cord injury, he uses a motorized chair. However, Mr. Bigelow is determined to fully recover. That recovery requires rigorous physical therapy paid out of pocket, he said, because it is not covered by insurance.
This year, as in past years since his life took a dramatic turn, members of Sylvania Schools, including Superintendent Brad Rieger, as well as Mr. Bigelow's family and friends, attend an annual benefit dinner and silent auction to defray the cost of therapy sessions. The sessions are at Walk the Line to SCI (spinal cord injury) Recovery in Detroit.
Mr. Bigelow calls his supporters Team Bigelow, and the team raises money for therapy sessions that cost nearly $400 each, or totaling about $40,000 a year, considering he attends twice a week.
Nearly 200 people attended Ain't No Mountain High Enough, this year's inspirational benefit held at St. Joseph's Father Wurzel Family Center Saturday night. Last year's Mardi Gras-themed event raised about $40,000, Mr. Bigelow said.
"When the accident happened we tried to do everything to make everyone comfortable. It's a huge lifestyle change," said Bonnie Brieschke, owner of the Brieschke's Bakery in Sylvania. "The therapy strengthens his core. So if anything changes, or if he has a stem cell transplant, he is in really good shape."
She and Sylvania resident Amy Meader were putting the finishing touches on the brightly colored center pieces, and ensuring everything was in place for the silent auction, which had at least $20,000 worth of items, including a football signed by Sylvania native and Miami Dolphins punter Brandon Fields.
Mrs. Brieschke knew the Bigelow family because her husband, Don, and Mr. Bigelow's dad, Brad, had been longtime friends.
Shortly after Mr. Bigelow's accident, the first Team Bigelow congregation gathered more than 800 people to Tam-O-Shanter for a massive fund-raiser and spirit-raising event.
"He's a very personable young man and touched a lot people's lives before the accident," his father said.
That includes Mr. Bigelow's former hockey coach, Jim Cooper, who said "Jeremy was an incredible athlete," and moreover a compelling personality.
Mr. Bigelow a 2002 Northview graduate, still continues to compel people today, sharing his story with others and often visiting the Northview hockey team for pregame pep talks.
He said he sees improvement in his condition. A major triumph: He was weaned off a ventilator and is able to breath on his own.
"No one is going to tell me 'no' that I can't get out of this chair," he said.
Guidelines: Please keep your comments smart and civil. Don't attack other readers personally, and keep your language decent. Comments that violate these standards, or our privacy statement or visitor's agreement, are subject to being removed and commenters are subject to being banned. To post comments, you must be a registered user on toledoblade.com. To find out more, please visit the FAQ.