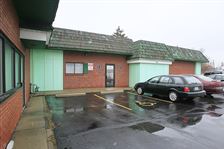 The Capital Care Network on Sylvania Avenue, Toledo's last abortion clinic, has been open for at least eight years. Its owner says not one patient has needed emergency treatment at a local hospital.
THE BLADE/JETTA FRASER
Enlarge | Buy This Image
COLUMBUS — The state on Wednesday urged a hearing officer to follow through with the closing of Toledo's last abortion clinic, saying in a legal filing that the clinic can't claim it has a legally required emergency transfer agreement with a "local" hospital.
The brief follows the March hearing in which Capital Care Network in West Toledo fought the state's closure order after the University of Toledo Medical Center, the former Medical College of Ohio, chose not to renew its transfer agreement with the clinic. Capital Care announced at the hearing it had secured a transfer agreement with the University of Michigan Health System hospital.
A final recommendation from hearing examiner William Kepko is expected in June, but the case is expected to end up in court. The clinic remains open.
"At the hearing, CCN's operator testified that it would take CCN's transportation provider approximately an hour to show up at CCN even to begin to transport a patient to this far removed hospital and that the actual transport itself would take another 15 to 20 minutes, if possible, to effect by helicopter," wrote Assistant Attorney General Lyndsay Nash.
"Such a lengthy delay would frustrate the purposes of having a transfer agreement with a local hospital, which is to provide immediate care to an [ambulatory surgical facility] patient in the case of emergencies and medical complications that require treatment beyond what the ASF can provide," she wrote.
Capital Care officials testified that if there were an emergency at the clinic, they would call 911 and the person would be transported to the nearest Toledo hospital — something that has not been needed in the eight years the clinic has been open.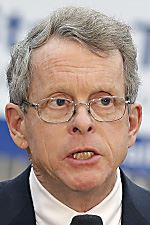 DeWine
Republican lawmakers added a provision to the state budget passed and signed by Gov. John Kasich last year to cement in state law a prior administrative rule requiring ambulatory surgical centers, such as an abortion clinic, to have emergency-care agreements in hand with hospitals if complications arise. They then went a step further by requiring that hospital to be "local."
State law doesn't define "local," but the state's health director at the time, Dr. Ted Wymyslo, determined that the University of Michigan Health System, about 53 miles away, doesn't qualify.
Capital Care had a one-year deal in place with UTMC, but the former Medical College of Ohio exercised its option not to renew it as of July 1, 2013. The clinic could not find an Ohio hospital willing to replace it. It ultimately signed an agreement with the Ann Arbor hospital as of Jan. 20.
The agreement makes it clear the hospital will not transport patients from Toledo, prompting the clinic's owner, Terrie Hubbard, to say she would employ a helicopter service in situations not considered serious emergencies.
"The state is ignoring the fact that the women who go to Capital Care are safe, and if they ever need an emergency transfer, they will be transferred to the local hospital because 911 will transport to the closest hospital to the center," said Jennifer Branch, the clinic's Cincinnati attorney. "You don't need a transfer agreement. Even if there was a transfer agreement, 911 and [emergency medical service] are still obligated to transport to the nearest facility to meet the patient's needs.
"For patients who have complications that are not an emergency, it's perfectly fine for them to travel to the University of Michigan," she said. "Patients will be protected. The reality is that no patient has been transported to a hospital since the operator has been in business, which is at least eight years."
The state's brief also disputes the clinic's contention that the transfer agreement law is unconstitutionally vague and unconstitutionally restrictive of a woman's access to abortion services.
Contact Jim Provance at: jprovance@theblade.com or 614-221-0496.
Guidelines: Please keep your comments smart and civil. Don't attack other readers personally, and keep your language decent. Comments that violate these standards, or our privacy statement or visitor's agreement, are subject to being removed and commenters are subject to being banned. To post comments, you must be a registered user on toledoblade.com. To find out more, please visit the FAQ.