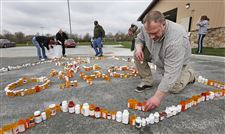 ABOVE: Kyle Schalow of Holland, right, and others build the RX Epidemic Memorial out of empty prescription drug bottles in Homecoming Park in Springfield Township. Mr. Schalow started the RX Epidemic Memorial Foundation after his wife, April, at left in background, became addicted to prescription pain killers.
Holland residents April and Kyle Schalow consider themselves lucky. Addiction nearly tore their family apart, but they were able to hang on, rebuild, and move forward.
"There were a lot of hard times," Mr. Schalow said. "It's not pretty and it's not easy, but you can get through it."
PHOTO GALLERY: Click here to view.
The co-founders of the Rx Epidemic Memorial Foundation held an awareness event Friday at Springfield Township's Community Homecoming Park with area government and law enforcement officials.
Mrs. Schalow, 32, became addicted to painkillers in 2009 after a doctor prescribed them to her for back pain. When her doctor realized what was happening and cut her off, she turned to alcohol, eventually attempting suicide in 2010 and winding up in a psychiatric ward.
She stayed clean for a short time, but soon was sucked back into her addiction.
"I ended up back taking pills again with some very close family members," Mrs. Schalow said. "I was buying them off the street."
She tried to hide it from her husband and children, through Mr. Schalow, 33, knew something was terribly wrong with his wife. By the end of 2011, he had decided to pack up their four kids and leave. That prompted Mrs. Schalow to confess and get help, and her husband stayed by her side.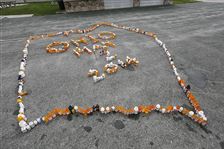 LEFT: The completed RX Epidemic Memorial made out of empty prescription drug bottles is set up in Homecoming Park in Springfield Township.
THE BLADE/DAVE ZAPOTOSKY
Enlarge | Buy This Image
"If you love someone, you don't just bail on them," he said.
In 2012 after appearing on Oprah Winfrey's Lifeclass show, the couple created the foundation to raise awareness of the rampant prescription drug abuse problem in the United States. According to the Ohio Department of Health's Office of Vital Statistics, prescription opioid pain medications — like Oxycodone and Hydrocodone — are associated with more overdose deaths in Ohio than heroin and cocaine combined.
The Schalows are working to create a national observance day for prescription drug abuse awareness and education. The Ohio House of Representatives unanimously passed a bill to designate the first Friday of May as the awareness day. The bill is now in the state Senate.
They are also working to get the Rx Epidemic Memorial — created of donated and recycled empty prescription bottles — placed in a national archive.
The memorial currently has about 13,000 bottles from across the United States and from overseas. Mr. Schalow said they hope to collect 36,500 bottles to represent a year's worth of the estimated 100 people per day that die from prescription drug abuse.
Lucas County Commissioners President Carol Contrada said grassroots efforts are crucial to address the growing problem of addiction.
"A lot of times, we look for top-down solutions," she said. "And those solutions are important, but even more important is what each one of us does every day in our daily lives. ... If we want to stop the cycle of addiction, abuse, and all the terrible things that flow from that, we have to stop it right here" at the community level.
John Tharp, the Lucas County sheriff, said law enforcement has to enforce the laws, but also needs to take on a new role.
"We need to be an advocacy agency because we are the first responders along the line of fire," he said. "We are there with families at the hospital and need to share the information we've learned."
The foundation also seeks to connect individuals and families looking for help to appropriate resources.
"It's given me purpose," Mrs. Schalow said of the foundation. "This is my purpose. We want to show people that there's life after addiction."
As of Friday, Mrs. Schalow has been sober for 851 days.
Contact Alexandra Mester: amester@theblade.com, 419-724-6066, or on Twitter @AlexMesterBlade.
Guidelines: Please keep your comments smart and civil. Don't attack other readers personally, and keep your language decent. Comments that violate these standards, or our privacy statement or visitor's agreement, are subject to being removed and commenters are subject to being banned. To post comments, you must be a registered user on toledoblade.com. To find out more, please visit the FAQ.