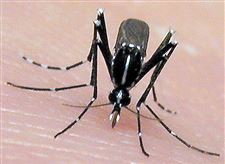 The Asian tiger mosquito, which carries the illness chikungunya, has been seen in southern Ohio but is largely unfamiliar to Lucas County.
JIM NEWMAN/UNIVERSITY OF FLORIDA Enlarge
Amid mounting concern nationwide over reports that fever-causing, mosquito-borne illness chikungunya has found its way into American backyards, the Toledo Area Sanitary District is on the lookout for a mosquito that is known to carry the virus but is still largely unfamiliar to Lucas County.
Eighty cases of chikungunya, a virus that causes joint pain and fever, had been reported in the United States and its territories this year as of June 17, according to the Centers for Disease Control and Prevention. None of those cases was transmitted within the continental United States; most involved individuals who had recently returned from travels to the Caribbean. The first local transmission of the virus was reported there last year.
No cases of chikungunya have been confirmed in Ohio this year, Richard Gary, state public health entomologist with the Ohio Department of Health, said last week. Still, while a type of mosquito responsible for a significant number of chikungunya cases is tropical, a second mosquito known to carry the virus, the Asian tiger, has a foothold in the state. Asian tiger mosquitoes were identified in 37 counties, mostly in the southern part of the state, between 1986 and 2012, Mr. Gary said. Officials suspect that they may be present in others too.
William Schaffner, an infectious diseases specialist at Vanderbilt University, called the Asian tiger mosquito a "very effective vector" of chikungunya with "aggressive," day-biting tendencies. They are black and white striped.
One such mosquito was identified in Lucas County in 2010, according to Mr. Gary, but none has been found since. As health departments across the country report confirmed cases of the virus that those mosquitoes carry, Lucas County officials are searching for signs of them in the area, even though they are not yet established here.
Paul Bauman, a biologist with the Toledo Area Sanitary District, said the district has been checking tires for Asian tiger larvae this season, but so far it has come up empty.
"We've still got a couple barriers to cross before it can really take hold here," Mr. Bauman said. "But we'‍re really trying to watch for that mosquito, and if we do find it, then we want to take care of it as soon as we see it."
In Monroe County, Michigan, officials have heightened their mosquito awareness efforts as they routinely do in the summer months, but they have not taken additional action with regards to Asian tiger mosquitoes, according to Kim Comerzan, health officer with the Monroe County Health Department. As of June 17, no cases of chikungunya had been reported in Michigan this year, according to the CDC.
The Wood County Health Department does not have a mosquito-control program, according to Pat Snyder, the department's heath education, information, and communications manager.
Guidelines: Please keep your comments smart and civil. Don't attack other readers personally, and keep your language decent. Comments that violate these standards, or our privacy statement or visitor's agreement, are subject to being removed and commenters are subject to being banned. To post comments, you must be a registered user on toledoblade.com. To find out more, please visit the FAQ.