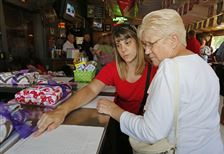 Joanie Cuffman Conner and her mother, Delores Cuffman, both of Cuyahoga Falls, Ohio, look over auction items at Sunday's fund-raiser at the Good Times Sports Bar & Grill in Toledo.
The Blade/Jetta Fraser
Enlarge | Buy This Image
Jessica Cline experienced a massive show of community support Sunday during a fund-raiser for her younger sister, Faith Gable, at Good Times Sports Bar & Grill.
Faith, 14, recently was diagnosed with Moyamoya disease, a rare disorder in which blood vessels narrow, reducing blood flow to the brain.
About a month ago, Faith had a headache, her hand went numb, and half of her face drooped — symptoms her mother recognized as a stroke, said Dee LaPoint of Toledo, the teen's aunt.
Faith, who lives in St. Cloud, Fla., with her parents, is to have neurosurgery next week at Boston Children'‍s Hospital.
To cover travel expenses for Faith's treatment, 26-year-old Ms. Cline organized the fund-raiser.
All was ready to go.
Then, the unthinkable happened.
Ms. Cline'‍s 5-year-old daughter, Olivia, was killed in a fire Friday in their home at 6032 Van Wormer Drive in West Toledo. The child likely died as a result of smoke inhalation, according to Dr. James Patrick, Lucas County coroner. The Cline home in the residential neighborhood north of Alexis Road and east of Jackman Road was heavily damaged.
Mrs. LaPoint said most items donated for an auction during the fund-raiser were lost in the fire. "But donations mean nothing when you've lost a child," she said.
Family and friends responded to the tragedy swiftly, donating food, money, and auction items.
Ms. Cline attended the fund-raiser.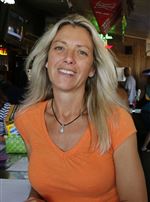 LaPoint
The Blade/Jetta Fraser
Enlarge | Buy This Image
"I told her she didn'‍t have to do this," Mrs. LaPoint said. "But she wanted us to be together. Now it's a benefit for the family to get back on its feet as well as for Faith."
She said she believes proceeds will likely be divided for the sisters, Ms. Cline and Faith.
Olivia was involved in planning the fund-raiser. "When Jessica came by she brought Olivia with her," said Zenos Zenofontos, owner of Good Times Sports Bar & Grill on Jackman Road who donated the use of the bar'‍s side room for the event. "I told her '‍I love your name, I have a friend named Olivia.' "
In the crowded room, as people milled around tables laden with silent auction items such as gift baskets and Barbies, they remembered Olivia.
"She loved Hello Kitty. She was a fanatic," Mrs. LaPoint said. "She was a huge Michigan fan. Most of her extended family are Ohio State fans, but she held her ground. She was not giving up on her Michigan Wolverines."
Toledoan Caroline Gable, Olivia'‍s great-grandmother, said she saw Olivia the day before the fire. "I have a wall of family pictures, and she was asking about every kid, everyone in the pictures." She said, "She's just a joy. It'‍s hard to say any more than that."
Some of Olivia's classmates from Elmhurst Elementary School attended the fund-raiser as well.
Tiffany Semple was there with her daughter, Macilyn, who was in Olivia'‍s class. She said she was not at all surprised by the community outpouring for the Cline and Gable family. "My daughter and I were in a fire a couple years ago and it was amazing at that time how everyone helped us. It's wonderful."
One surprise attendee was Faith Gable, who had not planned to attend but came with her parents, Marianne and Rick, to support her sister.
Mrs. LaPoint was amazed by the success of the event and the efforts of the community and her niece, Ms. Cline. "I can'‍t believe what she accomplished."
Contact Kathleen Ashcraft at: kashcraft@theblade.com or 419-724-6050.
Guidelines: Please keep your comments smart and civil. Don't attack other readers personally, and keep your language decent. Comments that violate these standards, or our privacy statement or visitor's agreement, are subject to being removed and commenters are subject to being banned. To post comments, you must be a registered user on toledoblade.com. To find out more, please visit the FAQ.