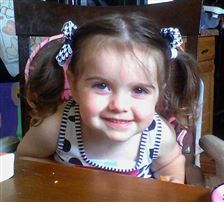 Emma Nickersonof Carey, Ohio, began showing symptoms in February, shortly after turning 2.
CAREY, Ohio — Emma Nickerson awoke one morning in February, shortly after her second birthday, and could no longer walk properly. Her family soon learned that she had a rare disorder called Krabbe leukodystrophy.
Jay Nickerson, Emma's father, said that when they first saw Emma walking oddly, as if she were drunk and tipping over, they thought perhaps it was an inner-ear problem. After a series of misdiagnosed ear infections, doctors sent the family to Nationwide Children's Hospital in Columbus for an MRI. The doctors informed the Nickersons that Emma had leukodystrophy.
Mr. Nickerson said the doctor essentially told him the news was not good and that she would die eventually.
Such a prognosis proves just how little is known about Krabbe leukodystrophy, which affects only about 1 in 100,000 people in the United States.
A second opinion led the Nickersons to Dr. Maria Escolar at the Children's Hospital of Pittsburgh near the end of May. She is one of the foremost experts on Krabbe in the United States.
"Krabbe is a genetic disease, and the baby inherits mutations," Dr. Escolar said.
The mutations cause the body to be unable to make certain enzymes, causing the cells that make myelin to die. Myelin is the substance that surrounds nerves in the brain and throughout the central and peripheral nervous system.
Without myelin, Dr. Escolar said, "the body can't transmit impulses quickly."
As time goes on, Dr. Escolar said, "The muscles get tight, you are unable to move, you can no longer swallow," and eventually, the body enters a vegetative state.
For treatment, Emma began chemotherapy on June 11, which she received for two weeks. On June 26, she received a cord blood transplant. With a cord transplant, the patient receives new blood cells collected from a placenta or umbilical cord.
The new cells carry the enzyme that the body did not have, Dr. Escolar said.
Mr. Nickerson said Emma now has 100 percent donor cells.
"This means that she accepted the transplant 100 percent," Dr. Escolar said. "Now normal enzymes are circulating, and we're hoping that stops the destruction of myelin. It is stopping the progression, but it is hard to reverse the damage."
Soon Emma will begin physical, occupational, and speech therapy to help her regain skills that the Krabbe disorder affected, such as walking and talking, Mr. Nickerson said.
Dr. Escolar predicts Emma won't be able to return home for at least another five months, and these treatment comes with some serious financial demands.
While Mr. Nickerson, his wife, Sarah; Emma, and her 6-year-old brother, Vincent, normally reside in Carey, Mrs. Nickerson is living in the Ronald McDonald House attached to the Pittsburgh hospital while Emma is in treatment, which requires a donation of $15 per night.
"The bills don't stop just because our daughter is in the hospital," Mr. Nickerson said.
The Nickersons realized that they needed help, so Mrs. Nickerson and her mother, Kate Chidester, began to plan the Embracing Emma Krabbe leukodystrophy fund-raiser.
The fund-raiser will be held Saturday at Circle P Ranch, 5419 County Road 139, Findlay, at 5 p.m.
Circle P Ranch has donated the space for the event, free of charge. Ms. Chidester said C&G Sounds donated a DJ. A friend of the family is donating a hog to provide the hog dinner, which will be $8 per plate.
"There will be face painting and games for the kids, a 50/​50 raffle, and a silent auction," Ms. Chidester said.
The family is asking that monetary gifts be made to the Embracing Emma donation account at First Federal Bank in Findlay.
Though Emma and her parents will not be at the event because they will still be at the hospital in Pittsburgh, Ms. Chidester said that they are anticipating between 300 to 500 attendees, including Emma's brother Vincent.
Ms. Chidester said that all proceeds the family does not need will be donated to Krabbe leukodystrophy research.
Contact Kathleen Ashcraft at: kashcraft@theblade.com or 419-724-6050.
Guidelines: Please keep your comments smart and civil. Don't attack other readers personally, and keep your language decent. Comments that violate these standards, or our privacy statement or visitor's agreement, are subject to being removed and commenters are subject to being banned. To post comments, you must be a registered user on toledoblade.com. To find out more, please visit the FAQ.