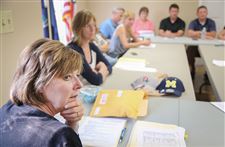 Kathleen Comstock, mother of Bedford High School graduate Christopher Comstock, who died last year, attends a Heart of Hope meeting last week in Lambertville.
THE BLADE/JEREMY WADSWORTH
Enlarge | Buy This Image
TEMPERANCE — Bedford High School graduate Christopher Comstock died in 2013, and his family and friends want to keep his memory alive.
They are organizing a fund-raiser to benefit others who have incurred high medical expenses.
They are planning a weekend of events for Aug, 22, 23, and 24, and hope to raise $8,000 to $10,000 for the Heart of Hope Fund, which is part of the Bedford Community Foundation.
Heart of Hope offers financial aid to Bedford families with seriously ill children under age 18. It has helped 128 families since 2009 and, in the past three fiscal years, donated more than $55,000, according to Laura Collins, the community foundation treasurer.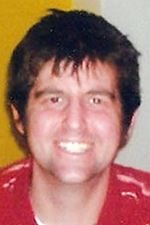 ChristopherComstock
The money is used for a variety of purposes including medical bills, building handicapped ramps, installing lifts on vehicles, or paying hotel bills when out-of-town travel is necessary for treatment, said Meg Smith, vice president of the community foundation and a member of the Heart of Hope committee.
Christopher Comstock's mother, Kathleen Comstock, recalled how her son needed a lung transplant at age 8 and the family was helped by Heart of Hope.
"We were told we had to live in St. Louis before the transplant, during the transplant, and up to three months after the operation," she said. "With the help of Heart of Hope, Chris and I were able to move to St. Louis. His dad and sisters visited when they could. We waited 11 months before our beeper went off, telling us his new lungs had come."
The lung transplant was successful, although he needed years of intensive follow-up care. But he earned a bachelor's degree in sports management from Siena Heights University, where he played outfield on the baseball team. He died at 28 of colon cancer.
The fund-raiser kicks off from 4 to 8 p.m. Aug. 22 with a spaghetti and steak dinner at Bedford High School. Tickets are $15 for adults and $8 for children between the ages of 3 to 10. Younger children are admitted free. Tickets can be purchased by calling Mary Zahabi at 734-568-0580, or emailing her at chriscomstocklegacyheartofhope@gmail.com, or by calling Paul Ramirez at 419-279-5000, or emailing him at paul.ramirez@mybedford.us.
Aug. 23 starts with a volleyball tournament at 9 a.m. at the high school. Zumba gets under way an hour later. There also will be basketball, softball, cornhole, and bowling.
The day will wrap up with a vigil at Bedford Community Stadium in tribute to children who have died. Parents who would like their child's name read should contact Mrs. Comstock at 734-854-7001, or email her at kathy.comstock11@gmail.com.
For more information on how to register for activities, including those on Aug. 24, visit bedfordcommunityfoundation.com.
Contact Carl Ryan at: carlryan@theblade.com or 419-724-6095.
Guidelines: Please keep your comments smart and civil. Don't attack other readers personally, and keep your language decent. Comments that violate these standards, or our privacy statement or visitor's agreement, are subject to being removed and commenters are subject to being banned. To post comments, you must be a registered user on toledoblade.com. To find out more, please visit the FAQ.