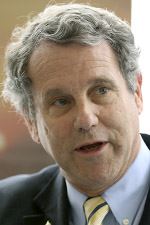 Brown
THE BLADE/DAVE ZAPOTOSKY
Enlarge | Buy This Image
Health-care officials in northwest Ohio expressed concern that an Affordable Care Act repeal would hurt their patients and hospitals during a round-table discussion Friday hosted by Sen. Sherrod Brown (D., Ohio).
Officials with ProMedica, Mercy Health, the University of Toledo Medical Center, the Toledo-Lucas County Health Department, Neighborhood Health Association, Toledo-Lucas County CareNet, and mental-health providers met at the Nexus Health Care center in Toledo.
"I want to hear what it means for opioid addiction, for mental health, for pediatrics, and for rural hospitals across the board," Senator Brown told attendees.
Officials said their patients would lose coverage if the health-care law is repealed without an immediate replacement.
"These are the working poor," said Kevin Webb, chief acute-care officer for ProMedica, referring to the estimated 900,000 people who have coverage in Ohio through the marketplace exchange and Medicaid expansion.
"I think it is unconscionable to leave the working poor in the lurch in Ohio. We obviously feel that if you're going to repeal [the ACA] that you've got to right away come back with something to replace it. The people who are getting care through Medicaid expansion cannot go without this coverage."
Mr. Webb said the hospital system has invested significant time and resources to comply with the ACA, and repealing it would mean a loss of $225 million over eight years, and eliminating 350 to 400 jobs because of the reduction in Medicaid reimbursements, he said.
Dan Barbee, interim CEO of UTMC, the former Medical College of Ohio, lamented the potential loss of mental health services with a repeal, adding that patients in crisis will end up in emergency departments like the one at UTMC with more frequency rather than getting preventive care.
Several local citizens also shared their experiences getting access to health care after the Affordable Care Act and Medicaid expansion, including a woman who was able to get addiction treatment services.
Mr. Brown said he thinks a flood of constituent calls has helped slow down Congressional Republicans' plans to undo President Obama's signature health care law.
"They've talked about repeal and replace for six years; they've never come up with what the plan is to replace it. I am fairly skeptical that they will be able to come up with anything to replace this much," he said.
He said he wants to see Congress make improvements to the Affordable Care Act without repealing it.
Mr. Brown will hold similar discussions with health-care officials in Youngstown and Cleveland.
U.S. Rep. Marcy Kaptur (D., Toledo) today will join representatives from CareNet and Mercy Health at an event in Oregon to encourage residents to sign up for insurance if they have not yet done so.
The deadline to enroll in marketplace insurance on the exchange is Jan. 31.
Contact Lauren Lindstrom at llindstrom@theblade.com, 419-724-6154, or on Twitter @lelindstrom.
Guidelines: Please keep your comments smart and civil. Don't attack other readers personally, and keep your language decent. Comments that violate these standards, or our privacy statement or visitor's agreement, are subject to being removed and commenters are subject to being banned. To post comments, you must be a registered user on toledoblade.com. To find out more, please visit the FAQ.