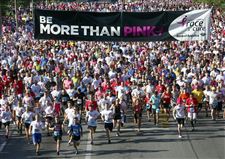 Participants start the course during the 2017 Komen Toledo Race for the Cure in downtown Toledo on September 24.
The Blade/Amy E. Voigt
Enlarge | Buy This Image
Mercy Health and Dave's Running Shop are hosting a community mammogram sign-up as part of their partnership in preparation for Toledo's Susan G. Komen race.
Women are invited to sign up for a mammogram from 6:30 to 8 p.m. Monday at Dave's Running Shop, 5700 Monroe St., Sylvania.
The event is part of the "Ready for the Race" program ahead of Toledo's Race for the Cure, which takes place Sept. 30 in downtown Toledo.
Guidelines: Please keep your comments smart and civil. Don't attack other readers personally, and keep your language decent. Comments that violate these standards, or our privacy statement or visitor's agreement, are subject to being removed and commenters are subject to being banned. To post comments, you must be a registered user on toledoblade.com. To find out more, please visit the FAQ.