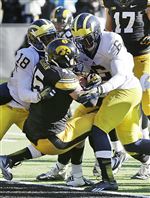 Iowa's Mark Weisman, center, scores a nine-yard TD between Michigan's Blake Countess, left, and Raymon Taylor.
ASSOCIATED PRESS Enlarge
IOWA CITY, Iowa — Devin Gardner appeared to be in a state of shock.
The quarterback's voice was listless, and he cast his eyes downward. The confidence he had at the start of the season all but vanished in the wake of the Michigan football team's 24-21 loss Saturday at Iowa, and in the wake of a play that could have likely changed the game in favor of the Wolverines.
On second-and-11 from the Iowa 39-yard line and UM down by three points, Gardner ran for eight yards and attempted to stretch the drive and the play a few more yards. As he ran to his left and towards the Michigan sideline, Iowa linebacker Anthony Hitchens met the quarterback, reached in, and stripped him of the ball.
MICHIGAN NOTEBOOK: UM's defensive effort not enough
As Hitchens ran towards the middle of the field, holding the ball above his head, Gardner stayed down on the field, despite the urging of his teammates. His fumble with less than three minutes left in the fourth quarter ended the drive and cost the Wolverines their final shot at a comeback.
It ended Michigan's hopes of winning 10 games this season, a goal necessitated after it was eliminated from Big Ten title contention. It shook Gardner to the core.
"I fumbled, to lose the game," Gardner said, his voice barely audible. "There's not much else.
"I lost the game by myself. I fumbled the ball when they trusted me to drive down and score."
Gardner's fumble was the nadir of Michigan's second-half unraveling at Kinnick Stadium, where the Wolverines haven't won since 2005.
"We gave up two touchdowns late in the third quarter when we had a lead," Michigan coach Brady Hoke lamented. "We have to hold a lead."
Michigan (7-4, 3-4 Big Ten) held a 21-7 lead at halftime on account of Brennen Beyer's early interception return for a touchdown, and a pair of second-quarter touchdown catches by A.J. Williams and Jeremy Gallon.
Iowa's second-half jump-start, Hawkeyes coach Kirk Ferentz said, came out of necessity.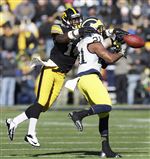 Iowa defensive back Desmond King, left, breaks up a pass intended for Michigan wide receiver Jeremy Gallon during the second half.
ASSOCIATED PRESS Enlarge
"I think our whole team grew during the second half today," said Ferentz, whose team outgained Michigan 117-19 in the first quarter. "I don't want to say we were embarrassed, but I think we knew we could play better offensively in the second half. And we knew that we were going to have to do that.
"You always want to do that, but the guys really put their foot on the gas."
The Hawkeyes (7-4, 4-3) didn't waste time doing that, as Tevaun Smith's 55-yard touchdown catch brought Iowa within seven points at 1:25 of the third.
It also began to deflate Michigan's offense.
The Wolverines struggled to move the ball, gaining only 10 yards (five rushing, five receiving) on 13 plays in the third quarter — even when it appeared that Raymon Taylor's interception with four minutes left in the frame could have given them some momentum. On the ensuing drive, the Wolverines moved only 13 yards on four plays before Iowa sacked Gardner for a loss of 14 yards.
"I can't really pinpoint anything," said Gardner, whose team gained 35 yards in the second half. "We just didn't finish well."
Early in the fourth, Iowa fullback Mark Weisman's four-yard carry on fourth-and-1 from the UM 24 helped set up his touchdown two plays later. Weisman (17 carries for 88 yards) churned into the end zone for a nine-yard touchdown to help the Hawkeyes tie the game at 21-all.
"Mark, there at the end, was running hard," Ferentz said of the junior, who was limited last season because of an ankle injury. "He looked like Mark Weisman of old, a little bit."
With six minutes left in the fourth, Iowa kicker Mike Meyer — whose 36-yard field goal attempt went wide right in the first quarter and whose snap was fumbled on a 35-yard attempt at the end of the first half — kicked a 34-yard field goal to give Iowa its first lead.
Seven plays later, Michigan's quarterback committed his team's only turnover.
It became the costliest.
"I was trusted to have the ball," Gardner said, sullenly. "I gave it back to the other team while we were going down to score."
Contact Rachel Lenzi at: rlenzi@theblade.com, 419-724-6510, or on Twitter @RLenziBlade.
Guidelines: Please keep your comments smart and civil. Don't attack other readers personally, and keep your language decent. Comments that violate these standards, or our privacy statement or visitor's agreement, are subject to being removed and commenters are subject to being banned. To post comments, you must be a registered user on toledoblade.com. To find out more, please visit the FAQ.