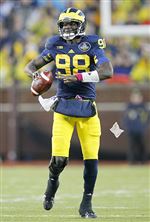 In the summer, Devin Gardner predicted a win over Ohio State. Now, he and Michigan are in a tailspin heading into Saturday.
BLADE Enlarge
IOWA CITY, Iowa — The thought of a 10-win season has officially evaporated. The chance to play in a New Year's Day bowl game is slim.
After Saturday's 24-21 loss at Iowa, one has to wonder what the Michigan football team has left to play for this season.
There's a minor bowl game on the horizon for the Wolverines, as well. But there's a bigger matter now at hand: "The Game."
RELATED ARTICLE: Buckeyes have plenty of incentive
"We play for our seniors," Michigan coach Brady Hoke said. "That's been the first thing that we always play for. And we've got a pretty big rivalry game."
The Wolverines (7-4, 3-4 Big Ten) host Ohio State at noon on Saturday at Michigan Stadium. The oddsmakers and casual college football fans are likely expecting a bloodbath, given that the Wolverines are in a tailspin.
Michigan has lost three of its last four games, has struggled to create offense in that stretch, and its offensive line has failed to protect quarterback Devin Gardner, who has been sacked 20 times since the start of November.
An early Vegas projection last week had Ohio State open as an 11-point favorite against Michigan — one of many numbers that define this year's Buckeyes.
Ohio State averages a Big Ten-best 48.7 points a game and boasts the league's leading tackler and top defensive playmaker in linebacker Ryan Shazier.
Oh, and by the way, the Buckeyes are No. 3 in the nation and have a 23-game winning streak.
Regardless, OSU is collectively licking its chops at the prospect of playing in a traditional rivalry game.
"I know one thing, that this team is playing at a very, very high level," OSU coach Urban Meyer told reporters Saturday after a 42-14 win over Indiana in Columbus. "They're focused each week, and that's our job to maintain focus again this week.
"Our focus is on beating that rival team, and that's it."
Saturday in Iowa City, Michigan had little to say about its rivalry game. The Wolverines squandered a 14-point lead to the Hawkeyes, and late in the fourth quarter, Iowa linebacker Anthony Hitchens stripped Gardner of the football as he attempted to extend an eight-yard run in Iowa's territory in an effort to sustain what could have become a pivotal drive for the Wolverines.
Gardner's subdued tone after the loss at Kinnick Stadium was a far cry from the summer, when he declared to a Michigan radio station that Michigan would defeat Ohio State at Michigan Stadium.
The two teams are now going in opposite directions.
Ohio State prepares for the Big Ten title game and has a chance at playing in a BCS bowl, while Michigan simply wants to end the season on a positive note after an erratic 2013 season.
Still, Hoke offered his frustrated team — and, likely, its frustrated fan base — some short-term optimism.
"It takes a little nick out of you," Hoke said. "But the good thing is, the sun's going to come up tomorrow, and we're going to regroup, and we've got one more opportunity ... for our seniors, in that stadium."
Contact Rachel Lenzi at: rlenzi@theblade.com, 419-724-6510 or on Twitter @RLenziBlade.
Guidelines: Please keep your comments smart and civil. Don't attack other readers personally, and keep your language decent. Comments that violate these standards, or our privacy statement or visitor's agreement, are subject to being removed and commenters are subject to being banned. To post comments, you must be a registered user on toledoblade.com. To find out more, please visit the FAQ.