The biggest obstacle facing The Amazing Spider-Man is that we are still living with the fresh memories of the first Spider-Man movie from only a decade ago.
Nevertheless, here it is, a new take on the web crawler with new faces, a new villain, and a new director. Which should mean the film is new as well.
But it isn't. We still sit through Spider-Man's origin story that, while cosmetically and tonally different, is essentially the same: high school nerd Peter Parker is bullied, bitten by a radioactive spider, and develops superpowers. He has a love interest (Gwen Stacy instead of Mary Jane Watson) to complicate his life, and a bitterly angry genetically modified scientist who wants to kill him.
We've lived through this in two of the three original Spider-Man movies.
Marc Webb replaces Sam Raimi, who directed the Spider-Man trilogy, and who peaked with the second film and tried far too hard to please with the third. Raimi was willing to make a fourth film, but his budget was too much and Sony decided to go in another creative (read: more affordable) direction.
Webb was a smart selection by the studio in theory, and not just for the irony of his last name. His only feature film is the clever and funny small-budget anti-love story (500) Days of Summer. There was nothing big about that movie, and Webb doesn't try to be big with The Amazing Spider-Man. He's looking for a more intimate, personal account of the extraordinary life of a superhero. The camera shots are lower to the ground and closer to the actors. There are several dizzying first-person shots of Spider-Man in action, swinging, running, and bounding from building to building. And there's more attention to the love story. It's all about bringing the superhuman down to earth and more accessible to us, which is why he spends so much time on Parker at the expense of his alter ego Spider-Man. Andrew Garfield (The Social Network), who grew up a Spider-Man fan, was a perfect choice as Parker, in much the same way as his predecessor Tobey Maguire.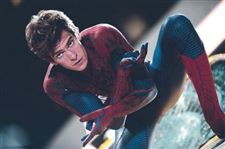 Andrew Garfield is Peter Parker in 'The Amazing Spider-Man.'
Garfield is thin and gangly, with scruffy black hair and a bookish disposition, and with a voice that seems only a year or two removed from puberty. He is the embodiment of Parker. His Spider-Man, however, is entirely too vulnerable. Maquire at least buffed up for the part, but Garfield remains the same size throughout, though his strength and agility have increased significantly.
This Spider-Man isn't so amazing as he is more human and reliant on others. This leads to an unintentionally melodramatic sequence where a construction foreman (C. Thomas Howell), whose son was saved by Spider-Man, helps the web slinger by positioning a series of building cranes so that Spider-Man can swing through the city after being shot in the leg. It's meant to be an emotional high point as Spider-Man goes into the final life-or-death battle, but it's laughably corny.
Emma Stone as Stacy is a slight trade-up as the replacement for Kirsten Dunst's Mary Jane. She's funny, and awkwardly comical in love. But the film would have you believe this high schooler is brilliant enough to have high-level access to major scientific research in a multibillion-dollar corporation. And that Parker is the only one bright enough to figure out complex mathematical formulas that have perplexed other scientists in the corporation for years.
Martin Sheen plays the fatherly Uncle Ben, whose tragic fate again determines the course of Peter and his superpowers. And Sally Field is Aunt May, who worried herself sick over Peter's late nights and morning appearances bloodied and bruised from a night of fighting crime.
Dr. Curt Connors who morphs into The Lizard, is played by Rhys Ifans, and is essentially the same mad scientist villain from the first two Spider-Man movies, only nastier and more menacing. The Lizard is so much more powerful than Spider-Man -- the creature can rip through steel doors with its claws, and has the ability to resurrect itself, even after a barrage of gunshots from the police -- that their battles shouldn't be a contest; the reptile should easily squash the arachnid.
The Amazing Spider-Man adheres more closely to the comic books than the previous movies, which fanboys should appreciate. For one, Spider-Man's web shooters are no longer organic, but are high-tech devices Parker invents, just as he did in the comic books. In the comic books, the gadgets would run out of the sticky web-like substance, making Spider-Man more vulnerable and adding an extra layer of tension.
Webb never explores that twist and misses a dramatic opportunity.
From a technology perspective, The Amazing Spider-Man is an improvement over its predecessors, taking full advantage of much-improved CGI a decade later and some amazing 3-D shots. But as a whole, it can never shake the familiarity: we've seen it before -- and better -- only a decade ago.
For a superhero origin film, it's pretty good, but it's hardly amazing.
The Amazing Spider-Man
Directed by Marc Webb; screenplay by James Vanderbilt and Alvin Sargent. A Columbia Pictures release, opening at midnight Monday at Rave Franklin Park, Fallen Timbers, and Levis Commons theaters and Sundance Kid Drive-in. Rated PG-13 for sequences of action and violence. Running time: 136 minutes.
Critic's rating: ★ ★ ½
Peter Parker ..... Andrew Garfield
Gwen Stacy ........... Emma Stone
Dr. Curt Connors........Rhys Ifans
Captain Stacy ......... Denis Leary
Contact Kirk Baird atkbaird@theblade.comor 419-724-6734.
Guidelines: Please keep your comments smart and civil. Don't attack other readers personally, and keep your language decent. Comments that violate these standards, or our privacy statement or visitor's agreement, are subject to being removed and commenters are subject to being banned. To post comments, you must be a registered user on toledoblade.com. To find out more, please visit the FAQ.