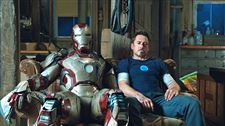 Robert Downey, Jr., as Tony Stark in a scene from the much-anticipated 'Iron Man 3.'
ASSOCIATED PRESS Enlarge
This time a year ago The Avengers set an impossibly high standard for the summer films that followed.
Iron Man 3 won't be so difficult to top.
After two soaring, roaring solo adventures, it was inevitable that Iron Man would come crashing down. And so the metal superhero does, landing in theaters tonight with a disappointing thud amid high expectations for the trilogy finale. The action film's marginal success/failure can be attributed to director and co-writer Shane Black, who brings superficial complexity to the hero, as well as a messy story based loosely on the Extremis comic-book arc by Warren Ellis.
Black is an action-film screenwriter with varying degrees of success (Lethal Weapon, The Long Kiss Goodnight and The Last Boy Scout, Last Action Hero). Iron Man 3 is only his second directorial effort, but he displays a better sense for constructing the necessary components to an action film behind the camera than on paper.
Black wants to humanize the man in the iron mask, billionaire Tony Stark (Robert Downey, Jr.), who is now crippled with anxiety disorders from his near-death experience in The Avengers. Facing his own mortality while battling an alien invasion force has left him feeling vulnerable, and so Stark isn't sleeping much these days. He spends most of his awake hours obsessing over his hobby of perfecting the Iron Man and making himself invincible. Live-in girlfriend Pepper Potts (Gwyneth Paltrow) is exhausted with Stark's behavior, and is pushing him to take a break. So he turns to the familiar comfort of booze. Oh, but this is a Disney film, so in fact he doesn't. It's a missed opportunity.
Seeing the natural bridge between Stark's fondness for alcohol and his withering self-doubt, Black and co-screenwriter Drew Pearce acknowledged they wanted to explore the hero's battle with alcoholism, as chronicled in the comics. Disney, though, nixed the idea — at least for now. So we have international terrorist The Mandarin (Ben Kingsley) as the super foe.
The Mandarin is behind a rash of domestic suicide bombings, interrupting network TV to taunt the President's inability to stop him. As an enemy of the state, The Mandarin has Stark's attention. When longtime bodyguard Happy Hogan (Jon Favreau) is critically injured in the latest terror attack it becomes personal for Iron Man. So Stark challenges the villain to visit him at his seaside mansion, which The Mandarin obliges in a surprise missile attack that levels the home.
Bloodied, temporarily beaten, and shorn of his armor, Stark is at his most vulnerable and human, which is the best time to meet a precocious and fatherless boy. Even as the boy attempts to bond with standoffish Stark, Black keeps the schmaltz from becoming an emotionally gooey After-School Special. There aren't many actors other than Downey who could make an adult blowing off a child's need for companionship tolerable, much less funny.
But a superhero in film is only as good as his villain. And that's a critical problem for Iron Man 3. The Mandarin has nothing to do with the Extremis story line. And given what Black and Pearce do with The Mandarin in the movie, the villain isn't critical to their story either, but instead serves as an unwarranted — and unwanted — diversion. Those excited for Kingsley villainy will be sorely disappointed, as The Mandarin is a bait-and-switch for a more sinister foe: a wealthy businessman named Aldrich Killian (Guy Pearce) with a grudge against the eccentric billionaire.
Aldrich has helped fund the work of scientist and former Stark one-night paramour Maya Hansen (Rebecca Hall), who has developed a revolutionary bio-injection that spurs super-human tissue regrowth and strength. It also comes with a nasty side effect: human bodies can generate enough heat to melt steal and, occasionally, blow up.
Pearce plays snarky malevolent well, but the grandiose villain concept is wearing thin. Aldrich has two big schemes — kidnap Pepper and turn her into a superhuman mutant as part of his revenge against Stark, and kidnap and kill the president — when one would have sufficed.
At least the latter leads to the best sequence in Iron Man 3: the mid-air rescue of plummeting Air Force One passengers sucked out of a gaping hole in the plane. The film's trailer teased to this moment, but the extended sequence is considerably more exhilarating. When staging action sequences, Black is on par with what previous director Favreau brought to the first two films. But so much of it is redundant. It's Iron Man beating up bad guys, with help from Colonel James Rhodes (Don Cheadle), and Stark being Stark.
That may have been enough for the first two installments, but this is the post-Avengers era of superhero crossover possibilities — as evident by how many moviegoers remain through the credits to see a cameo from another of Marvel's finest.
How is it that The Mandarin is allowed to create so much hysteria and for Aldrich to take our President without the full might of The Avengers coming to the rescue? Or, at the very least, super soldiers Captain America, Black Widow, and Hawkeye? Earth's Mightiest Heroes not only teamed up to save the world in 2012, they also changed our expectations for superhero films.
In the case of Iron Man 3, there's no ignoring that a solitary superhero just isn't as much fun without his super-powered friends along to help.
Contact Kirk Baird: kbaird@theblade.com or 419-724-6734.
Guidelines: Please keep your comments smart and civil. Don't attack other readers personally, and keep your language decent. Comments that violate these standards, or our privacy statement or visitor's agreement, are subject to being removed and commenters are subject to being banned. To post comments, you must be a registered user on toledoblade.com. To find out more, please visit the FAQ.