Guy Pearce portrays Eric as understated, yet menacing in 'The Rover.'
A24 FILMS Enlarge
A psychological post-apocalyptic tale of a loner on a quest across barren Australia to take back his stolen car from a gang, The Rover is the Mad Max film David Lynch never made.
Like the Road Warrior series written and directed by George Miller, The Rover is set shortly after the collapse of civilization and populated with strange denizens devolving under the stress of anarchy and lawlessness. It's violent, and stars an antihero named Eric (Guy Pearce) even more ruthless than Max, who develops a quasi-partnership with a gun-happy halfwit named Rey (Robert Pattinson).
They meet after the murderous gang, including Rey's brother Henry (Scoot McNairy) — who left Rey for dead after a bloody gun fight — ride off with Eric's car. He chases after them in their abandoned truck, but three against one proves too great of a match for him to overcome.
Eric later finds Rey, who is slowly dying from a gunshot to the abdomen, and gets him to a doctor.
The Rover
Written and directed by: David Michod, based on a story by Joel Edgerton and Michod.
An A24 release, playing at Franklin Park.
Rated R for language and some bloody violence.
Running time: 102 minutes.
Critic's rating: ★★★½
Cast: Guy Pearce, Robert Pattinson, Scoot McNairy.
It's not an act of mercy or kindness; Eric knows Rey is his only way to track down Henry and the other men to kill them and take back his car.
There's not much else to this simple plot construct other than man wants car back again and will go to incredible lengths to reclaim it. It's the layers that director David Michôd (Animal Kingdom), who cowrote the script with actor Joel Edgerton, adds to the film, though, that sets The Rover apart from other post-apocalyptic movies.
While his deteriorating world looks the genre — the same washed-out film technique and muted colors that define the future as a bleak sepia wasteland — Michôd isn't interested in capturing the death throes of civilization broken up by car chases in souped-up vehicles. The Rover is more philosophical and intimate, exploring a society without rules and consequences and its degradation of the human soul.
We don't know much about Eric initially, but in the course of the film we learn how he arrived at his present state of violent behavior and remorselessness. He's broken; he mourns the stability of the society and longs for justice — not just for the despicable actions of others, but for his own transgressions. Eric has blood on his hands, and the price of impunity, he says, "is not to forget."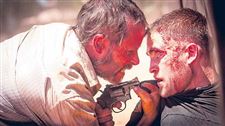 Guy Pearce and Robert Pattinson in a scene from 'The Rover.'
A24 Films Enlarge
Mel Gibson's Mad Max, for all his acts of self-preservation and self-interest, was mostly on the moral side of humanity, whether by choice or by accident. But in a world free of consequence, Eric straddles morality, and makes his choices depending on the moment — kill or let live — without hesitation. It's deliberately vague as to whether to embrace or fear him.
Pearce is understated but menacing, and offers his most complicated performance since starring as the hero with short-term memory loss in 2000's twisty murder-mystery Memento.
Pattinson finally shakes off the ick from the Twilight series with this dramatic role — a process begun with David Cronenberg and 2012's Cosmopolis.
Rey is a wide-eyed man-child who grew up in a world in collapse. His only protection was Henry, and with his brother gone, he clings to Eric, even after he kidnaps him and points a gun to his head.
As the two traverse the desolate highways, Eric and Rey develop a brotherly bond, as they encounter an array of humanity — moral, immoral, and amoral — holed up in decaying homes and buildings. Some of it seems a natural extension of the world they now inhabit, while others are exaggerated characters with that familiar Lynch vibe of weirdness. Michôd shoots much of these scenes close to the characters — with behind and in-front shoulder views — reminding us that danger lurks 'round every corner. The thrill isn't always in the pay-off, either, but in that unknown, especially once Eric and Rey reach their destination and must decide how to confront the gang and take back the car.
So why is Eric so attached to this vehicle? Michôd's answer is likely to polarize audiences as either deeply symbolic or as a bleak punch line to an old adage.
Contact Kirk Baird at kbaird@theblade.com or 419-724-6734.
Guidelines: Please keep your comments smart and civil. Don't attack other readers personally, and keep your language decent. Comments that violate these standards, or our privacy statement or visitor's agreement, are subject to being removed and commenters are subject to being banned. To post comments, you must be a registered user on toledoblade.com. To find out more, please visit the FAQ.