Bright and festive but also meandering and convoluted, Coco isn't classic Pixar. It's not even great Pixar. It's good-enough Pixar, which means this animated film is a good-enough family outing over the long Thanksgiving weekend.
Set in the world of Mexico's Día de los Muertos — Day of the Dead — Coco is Pixar's first multicultural (i.e., nonwhite) film, with an almost entirely Latino voice cast. (John Ratzenberger, Pixar's good-luck charm, has a small voice part.)
VIDEO: 'Coco' official trailer
Día de los Muertos is a Mexican holiday in which departed loved ones are celebrated and remembered by their families with stories passed down through generations and those things that are connected to those memories. This celebration involves a visit to the cemetery to clean tombstones of the dead, and decorating their graves with flowers, candles, as well as their photos and favorite food and drinks, or building at-home altars (called ofrendas).
'Coco'

Directed by Lee Unkrich and Adam Molina. Screenplay by Molina and Matthew Aldrich. A Pixar release playing at Franklin Park, Fallen Timbers, Levis Commons, and Mall of Monroe. Rated PG for thematic elements. Running time: 109 minutes.

Critic's rating: ★★★

Voices: Anthony Gonzalez, Gael Garcia Bernal, and Benjamin Bratt.
The point of Día de los Muertos is to remember those who have left us. But what about a family member everyone wants to forget?
That's the plight of a young father who wanted to be a world-famous musician and left his wife, Mamá Imelda (Alanna Ubach), and daughter to pursue that dream. He never returned, and so his wife grows bitter and bans music from their house. He is all but forgotten to his family.
Generations later and 12-year-old Miguel (Anthony Gonzalez) is rebelling against that no-music rule, now strictly enforced by his grandmother, Abuelita (Renée Victor), by playing guitar, singing, and listening to music when no one is around.
Miguel wants to be just like his idol, world-famous musician-turned movie star Ernesto de la Cruz (Benjamin Bratt). Miguel only knows Cruz from records and black-and-white movies in which Cruz, always playing the hero, practically looks into the close-up while he offers advice about being true to one's self and that music "is not just in me. It is me."
It's through Cruz's guitar and a bit of unexplained magic that Miguel is transported to the Land of the Dead, a wondrous realm where the dead live on as enchanting skeletons, where he hopes to find his idol and return home. It's his deceased relatives — Mamá Imelda, stern aunt Tía Victoria (Dyana Ortellí) and friendly aunt Tía Rosita (Selene Luna), identical twin uncles Tío Felipe (Herbert Siguenza) and Tío Oscar (Taylor Cooper), and great-grandfather Papá Julio (Alfonso Arau) — who will do everything they can to stop him from this musical path.
Miguel's only hope is a silly and nearly forgotten soul named Héctor (Gael García Bernal), who is desperate to visit the living one last time and proves to be most helpful as the pair embark on a journey that will change lives, living and deceased.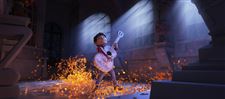 This image released by Disney-Pixar shows characters Miguel, voiced by Anthony Gonzalez in a scene from the animated film, "Coco."
ASSOCIATED PRESS Enlarge
Directed by Lee Unkrich (Toy Story 3) and co-directed by Adrian Molina, who co-wrote the film with Matthew Aldrich, Coco is more often interesting than it is entertaining, with stretches that are curious but not compelling. For one, the film doesn't have much of a villain and the stakes never seem that desperate.
Coco's heart is its ethnicity.
Mexican culture is lovingly explored in this film and even explained through music and generational mores. In an era of divisions, another film that celebrates our differences is welcomed. But Coco isn't the first animated feature film in even the last three years with a Day of the Dead setting.
In 2014 there was the Guillermo del Toro-produced The Book of Life, about a young musician who is magically transported to the Land of the Remembered in his quest to win the girl. It's worth noting that production on Coco began at least two years before The Book of Life premiered.
The Book of Life was Coco's equal in its vibrancy and imagination, though its story unspools more gracefully, at least in the first two acts.
Throw in literal drop-dead deadlines, spirit guides, and a generations-old mystery and Coco's plot becomes cumbersome. It's not until all of those subplot pieces are sorted out by the film's last half-hour that this holiday release finds that famed Pixar magic: those heartfelt moments, important lessons, and the joy and tears that define the animation studio's brand as a generational classic.
Until then, just soak up the animated details of the Mexican village where Miguel and his family live, and the spectacular colors and design of the Land of the Dead. Coco is a film that's easy on the eyes, even when it's not easy on the brain.
Contact Kirk Baird at: kbaird@theblade.com or 419-724-6734.
Guidelines: Please keep your comments smart and civil. Don't attack other readers personally, and keep your language decent. Comments that violate these standards, or our privacy statement or visitor's agreement, are subject to being removed and commenters are subject to being banned. To post comments, you must be a registered user on toledoblade.com. To find out more, please visit the FAQ.