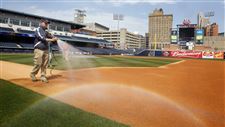 Jake Tyler, sports turf manager for the Toledo Mud Hens, works on getting Fifth Third Field ready for Wednesday's noon game.
The Blade/Jeremy Wadsworth
Enlarge | Buy This Image
The Mud Hens released their season-opening roster Monday, but already have made two changes entering Wednesday's exhibition contest against the Tigers at Fifth Third Field.
Toledo released all but one of the 25 names who will begin the season with the team on Monday, then added one player and subtracted on Tuesday.
SPECIAL SECTION: Mudhen's 2012 season
Toledo's original roster had 13 pitchers, including a whopping seven left-handers: Duane Below, Casey Crosby, Matt Hoffman, Fu-Te Ni, Andy Oliver, Drew Smyly, and Adam Wilk. The six right-handers were Chris Bootcheck, Brooks Brown, Jose Ortega, Luke Putkonen, Brayan Villarreal, and Thad Weber.
One change to that list came Tuesday when the Tigers placed pitcher Luis Marte on the disabled list and recalled Below to Detroit. Another will come next week when Smyly, who will start for the Mud Hens Saturday vs. Indianapolis, rejoins the Tigers and enters the rotation as Detroit's fifth starter.
For Wednesday's exhibition game against the Tigers, LHP Fu-Te Ni will start for the Mud Hens against Detroit's Rick Porcello.
Wilk will draw the starting assignment Friday in the Hens' International League opener against Indianapolis, followed by Smyly on Saturday, Oliver on Sunday, and Crosby Tuesday. Monday's starter will be either Ni or Weber.
Detroit's top prospect, RHP Jacob Turner, will begin the year in Hi-A Lakeland but is expected to join the Mud Hens early in the season.
The Mud Hens' catchers will be Bryan Holaday and Omir Santos, while the six infielders on the roster are Audy Ciriaco, Argenis Diaz, Brent Dlugach, Brad Eldred, Eric Patterson, and Ryan Strieby.
Dlugach was promoted from Double-A Erie Tuesday to fill a spot on Toledo's roster that was left open. The Tigers waited until Tuesday to announce that Brandon Inge would be placed on the 15-day disabled list, retroactive to Friday, March 30.
Detroit left the Toledo roster spot open in case the Tigers had to send a player down to Toledo to make room for Inge.
There are four outfielders on the Mud Hens roster: Quintin Berry, Jerad Head, Justin Henry, and Matt Young. Henry is a versatile player who also can play in the infield.
This is the first season International League teams have a 25-man roster limit, up one from previous seasons.
On Tuesday the Mud Hens held an informal workout at Fifth Third Field in preparation for the start of the season.
The Mud Hens-Tigers exhibition game starts at noon Wednesday. The Fifth Third Field gates will open at 10 a.m., with the Mud Hens taking batting practice from 9:55 to 10:40 and the Tigers taking batting practice immediately afterwards.
Members of the Tigers' Lo-A team from West Michigan also will be at the ballpark to help fill out the rosters for both sides.
Toledo opens its International League season Friday against Indianapolis at Fifth Third Field, with first pitch set for 5 p.m.
Contact John Wagner at: jwagner@theblade.com, 419-724-6481 or on Twitter @jwagnerblade.
Guidelines: Please keep your comments smart and civil. Don't attack other readers personally, and keep your language decent. Comments that violate these standards, or our privacy statement or visitor's agreement, are subject to being removed and commenters are subject to being banned. To post comments, you must be a registered user on toledoblade.com. To find out more, please visit the FAQ.