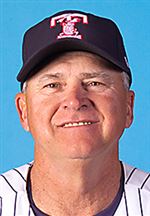 Parrish.
Larry Parrish just got a new job a month ago, returning to Toledo to manage the Mud Hens.
Could a different job be in his future?
Speculation as to replacements for Jim Leyland as Tigers manager has included the Mud Hens manager as a potential candidate.
When asked about the possibility of interviewing for the position, Parrish said in a phone interview Wednesday that he would be willing to listen.
"I haven't heard anything yet, but yeah, I mean I'd be interested," he said. "That team has some pieces. Some big pieces.
"I think anyone would want to manage that team."
The gambling Web site Bovada.lv lists former Tiger Brad Ausmus as a 4/​1 favorite for the job, followed by current Tiger coaches Lloyd McClendon (9/​2) and Tom Brookens along with former Mud Hen Torey Lovullo, currently Boston's bench coach (5/​1).
Next is another Detroit coach, Gene Lamont, at 11/​2, while Parrish is tied with former Indians manager Manny Acta at 8/​1.
Parrish admitted that he may not be the leading in-house candidate to replace Leyland.
"The Tigers have three other guys on that staff who could probably fill that [managerial] role," Parrish said, alluding to McClendon, Brookens and Lamont. "I'm not sure where they're at with them, but Gene, Lloyd and Brookens I think would all like that job."
Parrish, who will turn 60 on Nov. 10, does have extensive managerial experience. Besides managing the Mud Hens for all or part of eight different seasons, he has managed four other minor-league teams, including Detroit's Lo-A West Michigan team in the Midwest League last year.
At the major-league level, Parrish took over for Buddy Bell as Tigers manager for the final month of 1998 and all of 1999, when he was replaced by Phil Garner.
Parrish, who was named to replace Phil Nevin as Hens manager, said, "I don't know how to answer that," when asked if he had a strong desire to manage in the majors leagues again.
"I just want to manage," he said.
"I don't care what level it's at. What I enjoy most is passing my knowledge of the game on to my players. That's what I enjoy."
Contact John Wagner at: jwagner@theblade.com, 419-724-6481 or on Twitter @jwagnerblade.
Guidelines: Please keep your comments smart and civil. Don't attack other readers personally, and keep your language decent. Comments that violate these standards, or our privacy statement or visitor's agreement, are subject to being removed and commenters are subject to being banned. To post comments, you must be a registered user on toledoblade.com. To find out more, please visit the FAQ.