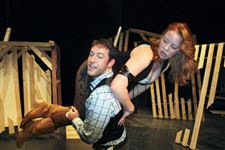 Shakespeare's 'The Taming of the Shrew' gets a Wild West twist in the production by the National Players at Owens Community College. Patrick Hogan and Alex Christine Highsmith star.
NATIONAL PLAYERS Enlarge
The church ladies are at it again, meddling in peoples' lives and creating havoc along their path as Harmony Romances opens tomorrow for a two-weekend run at Genoa Civic Theatre.
A sequel to the 2009 comedy The Ladies of Harmony written by Ron Hill, of Old Fort, Ohio, these ladies are taking over wedding arrangements for Leah, played by Cindi Bush, of Genoa, and Howard, played by Ronnie Tanner, of Northwood. The couple just wants a quiet, simple wedding, but the ladies have other plans.
The show, directed by Donna Wollenslegel, of Elmore, Ohio, opens with long-lost loves Leah and Howard reuniting and planning to be married. The helpful church ladies are thrilled to start the planning.
When Leah and Howard meet with Joe Angelone, of Gibsonburg, Ohio, as Pastor Bob, for premarital counseling, the groom-to-be and pastor realize they knew each other back in high school. Pastor Bob lets a secret slip that could end the couple's engagement.
Plowing ahead, the ladies group wants to throw a bridal shower for Leah. She doesn't want that. They plan a spectacular rehearsal dinner at a Mexican restaurant, unaware that Howard has a spastic colon.
Mixed up in the mishaps are some familiar characters from the prequel who might make their own love connection. Hill, as Russell, the recovering alcoholic janitor, is smitten with Lynn Hartley, of Genoa, as Maude, the bossy leader of the church group.
Other characters include Sheryl Allan, of Genoa, as Addie, who believes elopement equals bearing only red-headed children; Tonya Ayres, of Ottawa Lake, Mich., as Grace, who has a bladder-control problem, and Marcia Busdeker, of Woodville, as Pastor Bob's wife.
"Harmony Romances" is scheduled at 8 p.m. tomorrow and Saturday and Sept. 30 and Oct. 1 with 2 p.m. performances Sunday and Oct. 2 at Genoa Civic Theatre, 509 1/2 Main St., Genoa. Tickets are $10 for adults and $8 for seniors and students. Information: 419-885-3103 or www.genoacivictheatre.org.
Shakespeare
It's comedy afoot when Shakespeare's The Taming of The Shrew presented by National Players and injected with wild west flair showcases the battle of the sexes at 7:30 tonight in the Mainstage Theatre at Owens Community College Center for Fine and Performing Arts, in Perrysburg.
Written in the late 1500s and arguably one of Shakespeare's best-known comedies, Kate, the "Shrew," is the eldest daughter of a wealthy man. She defies convention, is smart, witty, and possesses a sharp tongue. Baptista, her father, wants to ensure she's married before her younger sibling Bianca.
This timeless tale transcends era and geography when this battle of domination is set on the western frontier complete with cowboy boots, whips, and lassos.
"The Taming of The Shrew" will be performed by National Players at 7:30 tonight in the Mainstage Theatre at Owens Community College Center for Fine and Performing Arts, 30335 Oregon Rd., Perrysburg. Tickets are $20. Information: 567-661-2787 or www.owens.edu.
'Barefoot in the Park'
The University of Findlay will open Neil Simon's romantic comedy Barefoot in the Park Wednesday in the Egner Center for the Fine and Performing Arts on campus in Findlay.
Directed by Vicki McClurkin, the cast of UF students portrays the story of newlyweds Paul, a conservative upcoming lawyer, and Corie Bratter, a liberal freethinker, played by Tony Patti and Ella Stickradt respectively, who live in a sixth-floor walkup New York City apartment. Corie plays matchmaker and sets her conservative mother, Mrs. Banks, played by Kristina Pritchard, up with a wacky neighbor.
Additional cast members include Cody Parsons, Andrew Hargrove, and Preston Eberlyn.
"Barefoot in the Park" will be performed at 8 p.m. Wednesday - Saturday through Oct. 1 and 2 p.m. Oct. 2, in the Egner Center for the Performing Arts at the University of Findlay, 1000 North Main St., Findlay. Tickets are $5 for adults and $3 for seniors and students. Information: 419-434-5335.
Contact Julie Njaim at: jnjaim@theblade.com.
Guidelines: Please keep your comments smart and civil. Don't attack other readers personally, and keep your language decent. Comments that violate these standards, or our privacy statement or visitor's agreement, are subject to being removed and commenters are subject to being banned. To post comments, you must be a registered user on toledoblade.com. To find out more, please visit the FAQ.