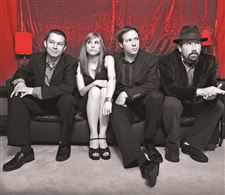 Band My Special Agent
PHOTO BY AMANDA FIELDS Enlarge
Lineup: Mark Fuchs, drums; Liz Owens Boltz, vocals, guitar, bass; Casey T. Malone, keyboards, vocals; and Brandon Boltz bass, guitar, vocals.
Year started performing: 2010.
Sounds a little like: The Pixies, Portishead, Goldfrapp.
Influences: Comic books, History Channel documentaries, and science fiction.
Upcoming shows: CD release party June 16 at the Ottawa Tavern, and June 30 at Woodchuck's.
Recordings: Self-titled EP (June, 2012).
Web site: facebook.com/myspecialagent.
Guidelines: Please keep your comments smart and civil. Don't attack other readers personally, and keep your language decent. Comments that violate these standards, or our privacy statement or visitor's agreement, are subject to being removed and commenters are subject to being banned. To post comments, you must be a registered user on toledoblade.com. To find out more, please visit the FAQ.