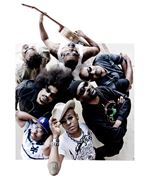 Fishbone will be performing live Friday at Finn's.
Toledo music fans have to choose Friday night:
Fishbone at Mickey Finn's Pub or Uncle Kracker at Headliners?
You can't do both.
Here's what's at stake:
Fishbone is a pioneering funk/punk hybrid that started in 1979 and helped storm the beaches for everyone from the Red Hot Chili Peppers to Primus. The band scored critical and commercial acclaim with 1991's "The Reality of My Surroundings" but their chaotic combinations of punk and ska, metal, and funk probably kept them from achieving the sort of mainstream success of their acolytes.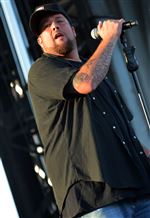 Uncle Kracker, seen here performing earlier this summer, will be at Headliner's on Friday night.
Getty Images Enlarge
They've been slogging away ever since and deserve credit for one of the greatest album titles ever: "Give a Monkey a Brain and He'll Swear He's the Center of the Universe."
Show time at the 602 Lagrange St. Finn's is 9 p.m. with opening bands The Grubs, Downtown Brown, and Gold. Tickets are $12 in advance from Shaking Street Records, Culture Clash, and Ramalama Records, and the Headliners box office. They are $15 at the door.
Uncle Kracker out of Detroit scored commercial popularity in the early '00s as a Kid Rock companion and mainstream rock hit-maker before morphing into the country act that he is now. Songs such as "Better Days," "In a Little While," and his cover of the Dobie Gray hit "Drift Away" carved out a niche for Uncle Kracker as a dependable purveyor of good-time pop.
He also co-wrote the huge Kid Rock hit from 2008, "All Summer Long" and has been collaborating with Kenny Chesney.
Uncle Kracker is at Headliners, 4500 N. Detroit Ave., with doors opening at 8 p.m. Tickets are $20 and are available at all TicketMaster outlets or at ticketmaster.com.
Guidelines: Please keep your comments smart and civil. Don't attack other readers personally, and keep your language decent. Comments that violate these standards, or our privacy statement or visitor's agreement, are subject to being removed and commenters are subject to being banned. To post comments, you must be a registered user on toledoblade.com. To find out more, please visit the FAQ.