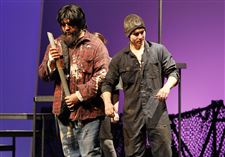 Esteban Vega, left, and Landon Tavernier perform in 'King Cole's American Salvage,' an adaptation of a story in Bonnie Campbell's critically acclaimed 'American Salvage,' at Owens Community College.
THE BLADE/JETTA FRASER
Enlarge | Buy This Image
Bonnie Campbell sat in Owens Community College's Center for Fine and Performing Arts on Saturday night and watched her short stories play out on a theater stage for the first time.
Ms. Campbell's American Salvage book of short stories was a finalist for the 2009 National Book Award in fiction. Two of the short stories, King Cole's American Salvage and The Inventor, 1972, were performed four times this weekend at Owens.
"The actors are really excited, because they are creating these characters for the first time ever on stage," said Jeremy Meier, Owens' assistant professor of fine and performing arts. "They are just words on paper before actors take the stage."
He turned the short stories into scripts for plays. He contacted the music department to write original music for the play.
The music was created by Eric Wallack, an Owens associate professor of fine and performing arts. Mr. Wallack said he has been in music for 30 years and it always has been a goal to create music for a show, movie, or a play.
"I read the stories and it was really easy to create ideas — the music really came from the writing," he said, adding that he wrote seven cues for the play. "Instead of hearing the music, you see the music."
He had to make sure the music didn't upstage the actors but complemented them, creating more of a mood than a melody.
Ms. Campbell said giving someone else control of your work can be nerve-wracking, but she said Mr. Meier did a great job with the script. "Sometimes in movies they take a lot of liberties from the book," she said. "He didn't do that. He was right on the words from the story."
Mr. Meier said the short stories are very gritty, looking at American life and how people deal with change. He said it was easier to work on scripts for short stories than trying to condense a full novel.
"It shows how characters adapt to change," he said of Ms. Campbell's work.
"There are addictions, personal demons, and self-abuse. People are facing a changing world. It is very relatable."
Owens has made American Salvage a campuswide read this year. The college's production, meanwhile, differs from many plays it stages because the actors narrate part of the action; the script isn't solely dialogue-driven.
"It seems like they are a creative bunch in that drama department," Ms. Campbell said.
Guidelines: Please keep your comments smart and civil. Don't attack other readers personally, and keep your language decent. Comments that violate these standards, or our privacy statement or visitor's agreement, are subject to being removed and commenters are subject to being banned. To post comments, you must be a registered user on toledoblade.com. To find out more, please visit the FAQ.