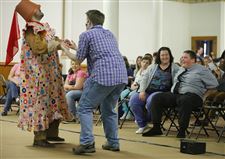 Mudge, played by Rob Grippa, left, and Henry, played by Ben Simpson, act out a scene as Tommy Stone and his mother, Ginnene, at right, laugh during a performance by Theatreworks USA, a nonprofit theater group from New York City, at the Autism Academy of Learning on Friday.
THE BLADE/ANDY MORRISON
Enlarge | Buy This Image
Tommy Stone doesn't take no for an answer.
The 14-year-old theater lover used his mile-long tenacious streak to persuade a New York City organization to stage a production at his school, Autism Academy of Learning.
For weeks, he implored the nonprofit Theatreworks USA to bring one of its traveling productions to the school in Toledo's central city.
PHOTO GALLERY: Click here to view.
His countless calls resulted in a special curtain call Friday, when a troupe of New York actors surprised the student body with a one-hour musical.
Tommy sat with his mother in the front row and watched the performance of Henry and Mudge with rapt attention. When the actors took their bows, Tommy gave them a standing ovation.
"It was perfect," he said.
His praise and appreciation is as deep as his persistence.
A while ago, he approached Principal Mark Lafferty with an idea: He wanted to bring a play to the public charter school, which enrolls 52 students ages 5 to 22.
Soon after that conversation, the academy got a phone call from Theatreworks regarding a request to schedule a performance.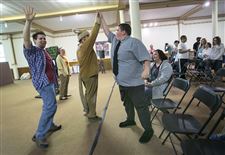 Tommy Stone gets high-fives from Rob Grippa and praise from Ben Simpson, left, after the performance of 'Henry and Mudge' on Friday.
THE BLADE/ANDY MORRISON
Enlarge | Buy This Image
The school explained that the Mr. Stone who had contacted the office was a student, and the school didn't have the budget to bring a play to Toledo.
Tommy kept calling.
Theatreworks volunteered to send one of its troupes, a group of five actors and a stage manager who have been touring around the country since January. No charge. The troupe would fit in the Toledo stop after shows in the Chicago area and before heading to Ann Arbor.
Everyone tried their best to keep the visit a surprise for Tommy and his classmates, but Tommy had pretty much figured it out by the time the actors arrived and put up their set.
He was confident the other students were going to enjoy the production.
The theater group shared his excitement. Typically, they play at venues that seat thousands, and students are bused in to watch.
"I like doing these smaller venues because you get to literally see their facial reactions and you get to hear how they are responding and can look in their eyes," said Ben Simpson, an actor who plays the title role of Henry, a kid who tries to teach tricks to his goofy, lovable dog Mudge.
The musical is based on children's books by author Cynthia Rylant.
"This show is really special to all of our hearts and souls," said stage manager Charlie Moore. "The excitement, the intensity that Thomas has for getting this show here, it reminds me of the love I had for theater when I was younger."
Mr. Lafferty jokes that Tommy should be the academy's event coordinator.
"Once he gets an idea in his head he's very, very determined," he said. "I think he's going to be a good salesman in the future."
Tommy's mother, Ginnene Stone, said her son has put on one-man plays since he was a youngster. He dons costumes made by his grandmother, memorizes all the lines, and acts out all the parts on the family's back porch.
After the Theatreworks show, he posed for a group photograph with the cast and crew on the front steps of the set's house and offered a thumbs-up review: "Wow, that was so cool."
Contact Vanessa McCray at: vmccray@theblade.com or 419-724-6065, or on Twitter @vanmccray.
Guidelines: Please keep your comments smart and civil. Don't attack other readers personally, and keep your language decent. Comments that violate these standards, or our privacy statement or visitor's agreement, are subject to being removed and commenters are subject to being banned. To post comments, you must be a registered user on toledoblade.com. To find out more, please visit the FAQ.