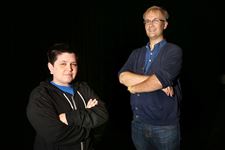 Drama Club director Julie Zatko and assistant director Ryan Mahaffey are planning on three plays for 2014-2015: a musical, a comedy, and a drama with an opportunity for further education.
THE BLADE/KATIE RAUSCH
Enlarge | Buy This Image
Classes may have ended last week, but the Drama Club at Rossford High School already has its theater season for 2014-2015 planned, and it includes a wide, even unexpected, variety of productions.
Director Julie Zatko and assistant director Ryan Mahaffey said they wanted to come up with an eclectic selection for the fall, winter, and spring plays that combines familiar, popular shows with one that brings with it some educational edginess.
The two popular productions, respectively slated for November and April, are Fools by Neil Simon, and Disney's the Little Mermaid Jr., an abbreviated version of the Broadway production adapted from the Academy Award-winning film.
The third play, set for January, is not typical high school fare. The historical tragedy called I Never Saw Another Butterfly, by Celeste Raspanti, recounts how a Jewish child survived the Nazi concentration camp Theresienstadt.
The Simon comedy flopped in its 1981 Broadway debut, Mr. Mahaffey said, but it has been popular on the community-theater circuit.
"It has that old-time comedy feel of vaudeville jokes," he said. "The quick one-liners just keep coming, one after the other."
The story is about a village in which everyone is stupid as the result of a 200-year-old curse. Ms. Zatko noted that the play has a large cast, which means a lot of students can participate.
Disney's the Little Mermaid Jr. tells the story of the mermaid Ariel and her aquatic friends. It derives from the classic story The Little Mermaid by Hans Christian Andersen.
"We'‍re going to include junior high and elementary school kids and make it a big community event," Ms. Zatko said. There also will be an afternoon high tea with Ariel.
Ms. Zatko said she planned to turn the production of I Never Saw Another Butterfly into a learning experience.
"We're thinking of having an afternoon performance and invite other schools to it," she said.
Mr. Mahaffey said he'‍d like to have a speaker with expertise in the Holocaust, or even a Holocaust survivor, give a talk to add to the play's educational value.
Ms. Zatko said some of her performers expressed enthusiasm about I Never Saw Another Butterfly.
"A couple of kids came up to me and said they were really excited. It was something heavy they could dive into," she said.
Contact Carl Ryan at: carlryan@theblade.com or 419-724-6095.
Guidelines: Please keep your comments smart and civil. Don't attack other readers personally, and keep your language decent. Comments that violate these standards, or our privacy statement or visitor's agreement, are subject to being removed and commenters are subject to being banned. To post comments, you must be a registered user on toledoblade.com. To find out more, please visit the FAQ.