The Toledo Symphony named noted Canadian conductor-composer Alain Trudel as its new music director Friday, less than a month after its last maestro, Stefan Sanderling, officially vacated the position.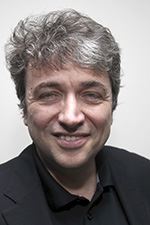 Trudel
THE BLADE/KURT STEISS
Enlarge | Buy This Image
Symphony President and CEO Zak Vassar introduced Mr. Trudel at a news conference, calling him the best of the 20 candidates considered for the job, most of whom served as guest conductors for the orchestra over the past two seasons.
Mr. Sanderling, who led the orchestra from 2003 to 2017, left for a similar position with the Symphony Orchestra of the Principality of Liechtenstein. He had announced his impending departure in 2015.
Mr. Vassar said Mr. Trudel received strong support from the symphony's musicians, a search committee led by symphony trustee chairman Randy Oostra, and symphony administrators. He said the Montreal native's "joy for music is obvious, and he will share that joy not only with our audiences, but also with individuals and groups throughout the communities of northwest Ohio and southeast Michigan."
Added the chief executive: "With Alain's appointment, we turn the page in the story of the Toledo Symphony. He was a unanimous choice."

THE BLADE
Enlarge | Buy This Image
Mr. Trudel, who turns 51 on Tuesday, arrives with impressive credentials. He is currently music director of l'Orchestre Symphonique de Laval in Quebec, principal youth and family conductor with the National Arts Centre Orchestra in Ontario, principal guest conductor of the Victoria Symphony Orchestra, and guest musical adviser for the Manitoba Chamber Orchestra.
He has also been a conductor for the Canadian Broadcasting Corp. Radio Orchestra.
A trombonist by training, Mr. Trudel first started playing at age 12 and made his professional debut at age 18. As a guest conductor, he last led the Toledo Symphony in a pair of classics concerts in April.
In a conversation before his introduction, he told The Blade he's enthusiastic about moving to Toledo, and that he hopes to take an "already great" orchestra to the next level.
"I wouldn't be accepting this position if I didn't think [Toledo Symphony musicians] compared well to others around the world," he said. "I have three pillars, all of equal importance: the excellence of the music making, the education aspect, and our community. You need to be relevant in your community.
"[People] talk often about corporate citizens; well we're cultural citizens. That's important, because otherwise you're just playing for yourself."
The maestro said one of his goals will be to increase the symphony's exposure around the country and the world.
"The orchestra is already at a high level," he said. "It's that last 10 percent I want to work on. … A good orchestra is a good team. It's not just 80 good players. … Whenever people talk about great orchestras, I want them to mention Toledo."
Because professional orchestras plan their seasons and book guest artists a year in advance, he will serve as music director designate for the next year. He will officially assume his duties on July 1, 2018, in time to lead the orchestra's 75th season.
Mr. Trudel will be the symphony's ninth music director since its founding in 1946. He will conduct two concerts during the upcoming 2017-18 season, including the music of Liszt, Mozart, and Rachmaninoff.
"I'm one of the lucky ones who's living my dream," Mr. Trudel added. "My dream is to make music to share and play with my colleagues, so I'm very, very lucky that I get to do that."
Contact Mike Pearson at: mpearson@theblade.com or 419-724-6159.
Guidelines: Please keep your comments smart and civil. Don't attack other readers personally, and keep your language decent. Comments that violate these standards, or our privacy statement or visitor's agreement, are subject to being removed and commenters are subject to being banned. To post comments, you must be a registered user on toledoblade.com. To find out more, please visit the FAQ.