Tom Stoppard's comedy Arcadia, considered to be one of the best plays by one of the most acclaimed playwrights of his time, will be presented by the University of Toledo department of theater and film in six performances beginning Friday.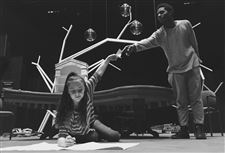 Grace Mulinix stars as Thomisina and Justin Petty as Septimus in the University of Toledo production of Tom Stoppard's comedy 'Arcadia.' The first of six performances is at 7:30 p.m. Friday.
Qarie Marshall Enlarge
Arcadia, Stoppard's 1993 play set in a country estate in England in 1809 and in the present, reflects on science and philosophy, mathematics and physics, and life's important questions, as the past looks to the future and the present considers the past.
Among the characters in the 1809 story are Thomasina Coverly, a smart teenager interested in math and physics, and more, who studies with tutor Septimus Hodge. In the present, writer Hannah Jarvis and literature professor Bernard Nightingale are at the estate, studying what may have occurred in the past.
The UT production is directed by Qarie Marshall, a professional actor whose many credits include appearances in TV and films, and on stages in the United States and in the United Kingdom. He also has narrated more than 30 series for the Discovery, Learning, and Travel channels, and for PBS and BBC. He is the local radio host at WGTE FM91 for NPR's Morning Edition, and has been an adjunct instructor of theater and film at the University of Toledo since 2010.
"One clever thing about Stoppard — some people would arguably call him a genius — is that he's able to make these very complex theories of mathematical equations and quantum theory accessible for the audience," Marshall said.
You don't have to be a math ace to enjoy the show.
"It gives you the sense of what life is about, determinism and fate, and how we are all sort of connected, from the past to the present and to the future." The play is touched with comedy, but also has passionate overtones about love and loss.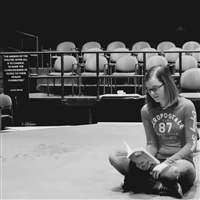 Becca Lustic portrays Chloe in 'Arcadia.'
Qarie Marshall Enlarge
The cast features Grace Mulinix as Thomasina Coverly, Justin Petty as Septimus Hodge, Zane Traxler as Jellaby, Bryan Harkins as Ezra Chater, Keeyong Hong as Richard Noakes, Faith Murphy as Lady Croom, Rachel Hybarger as Captain Brice, RN, Kenzie Phillips as Hannah, Becca Lustic as Chloe Coverly, Brad Smith as Bernard Nightingale, Austin Rambo as Valentine Covery, and Jude Lingan as Augustus/Gus Coverly.
Performances of Arcadia are at 7:30 p.m. Friday and Saturday and 2 p.m. Sunday in Center Theatre in UT's Center for Performing Arts on the main campus. Additional performances are at 7:30 p.m. Nov. 10 and 11 and 2 p.m. Nov. 12. Tickets are $15 general admission and $10 students and seniors and available from utoledo.tix.com and at the door.
Funny business
Oregon Community Theatre will present the musical comedy How to Succeed in Business Without Really Trying at 7:30 p.m. Friday and Saturday, and 3 p.m. Sunday in Fassett Auditorium, 3025 Starr Ave. Additional performances are at 7:30 p.m. Nov. 10 and 11. Dawn Yard is the director.
The story, which parodies the world of business, follows a young, ambitious window-washer, J. Pierrepont Finch, who is inspired by the book How to Succeed in Business Without Really Trying. He decides to take a chance and join the World Wide Wicket Company, where he rises from the mailroom to chairman of the board.
The musical, with music by Frank Loesser and book by Abe Burrows, was inspired by Shepherd Mead's 1952 book. It opened on Broadway and won seven Tony Awards, including Best Musical, and the 1962 Pulitzer Prize for Drama.
Tickets for the Oregon production are $17 general admission, $14 for seniors and students, are from 419-691-1398, oregoncommunitytheatre.org, and at the door.
Tree City
The award-winning play On Golden Pond will open a new season for the Tree City Playhouse, a community theater program of the Sylvania Community Arts Commission.
The drama tells the story of a couple, Norman and Ethel Thayer, who are facing the challenges of aging.
As short-tempered Norman, a retired professor, nears his 80th birthday, he and Ethel decide to return to their summer home on Golden Pond in Maine for the 48th year. The Thayers' divorced daughter, Chelsea, who has not visited there in years, promises to return for her father's birthday despite their difficult relationship. She brings along her boyfriend, Bill Ray, and his son, Billy. Chelsea asks her parents to keep Billy for the summer, and Norman and Billy slowly bond over fishing and books, to the benefit of both.
The play, by Ernest Thompson, opened on Broadway in 1979 and received the Drama Desk Award for Outstanding Play. The work drew increased attention when the film On Golden Pond, starring Henry Fonda and Katharine Hepburn, was released in 1981.
Performances are at 7:30 p.m. Friday and Saturday, and 3 p.m. Sunday in Church 3TwentyOne, 5845 Centennial Rd. Artistic director Keith Ramsdell directs the production. Tickets are $10 general admission and $8 for seniors and students; they are available from 419-517-0118, sylvaniaarts.org, and at the door.
Contact Sue Brickey at: sbrickey@theblade.com.
Guidelines: Please keep your comments smart and civil. Don't attack other readers personally, and keep your language decent. Comments that violate these standards, or our privacy statement or visitor's agreement, are subject to being removed and commenters are subject to being banned. To post comments, you must be a registered user on toledoblade.com. To find out more, please visit the FAQ.