Chris Stapleton performs at the CMA Music Festival at Nissan Stadium in Nashville.
Invision Enlarge
FROM A ROOM, VOLUME 2
Chris Stapleton (Mercury Nashville)
Chris Stapleton's breakthrough has been one of the more heartening developments out of Nashville in recent years. The success has been well-deserved — he had long been valued by fellow country artists as an all-around talent, but always in the service of others.
From a Room, Volume 2 follows the format of Volume 1, which was released this year and was just nominated for a Grammy. The burly, bearded Stapleton leads a spare guitar-bass-drums combo, with his wife, Morgane, on background vocals. That puts his talents as a singer, writer, and guitar player in stark relief.
Here, Stapleton again cuts loose with the Waylonesque honky-tonk of "Hard Livin'" ("This hard livin' ain't as easy as it used to be") and the blazing, blues-inflected rock of "Midnight Train to Memphis." But he's equally adept at more intimate, acoustic-textured numbers that range from the arrestingly dark imagery of "Scarecrow in the Garden" ("There's a Bible in my left hand and a pistol in my right") to the resolute positivity in the face of quotidian struggles found in "A Simple Song" ("I love my life … the kids and the dogs and you and me").
— Nick Cristiano, Philadelphia Inquirer
"I Knew You When," Bob Seger.
I KNEW YOU WHEN
Bob Seger (Capitol)
Bob Seger has some fallen peers on his mind. I Knew You When is dedicated to Glenn Frey, who is also the subject of "Glenn Song": "You were young, you were bold / And you loved your rock and soul." (Never associated Frey or the Eagles with soul of any kind, but that's another story.) The song "Blue Ridge" is likewise dedicated to Little Feat's Richie Hayward, who drummed on the track and others on the album. Seger also delivers songs by Lou Reed ("Busload of Faith") and Leonard Cohen ("Democracy"), pointed choices obviously meant to serve as commentary on the times.
The 72-year-old Seger is often in a reflective mood here, with numbers such as the title song and "Forward into the Past" grappling with the distance between youthful idealism and the sober realities of maturity. But then again the Michigan rocker has always been something of an old soul. Throughout he never strays far from his solid and straightforward heartland rock. It can be lumbering and florid ("The Sea Within"), but it can also move like a "Runaway Train."
— Nick Cristiano, Philadelphia Inquirer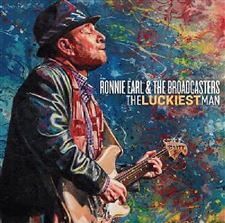 "The Luckiest Man," Ronnie Earl & The Broadcasters.
THE LUCKIEST MAN
Ronnie Earl & The Broadcasters (Stony Plain)
New England bluesman Ronnie Earl has long been one of North America's most underrated guitarists — and The Luckiest Man is an especially heartwarming album, a sweet tribute to his longtime bassist, the late Jim Mouradian, who died in January.
The album's title is a nod to one of Mouradian's most familiar sayings: "I'm the luckiest man you know — and I don't even know who you know."
There's always been something sincere and unpretentious about Earl and his talented band, and this disc is no exception.
There's the hauntingly beautiful "Death Don't Have No Mercy" and "Jim's Song," as tributes to Mouradian, plus the uplifting, gospel-infused "Never Gonna Break My Faith" which offers a real spiritual aura.
This is Earl's 25th album and his 11th on the Stony Plain label.
A former Roomful of Blues guitarist who draws from Otis Rush and Magic Slim, Earl is inexplicably still unknown to many people despite a long and storied career in which he's played alongside greats such as B.B. King, Stevie Ray Vaughan, Carlos Santana, Eric Clapton, the Allman Brothers, Muddy Waters, Buddy Guy, and others.
A three-time Blues Music Award winner as Guitarist of the Year, a DownBeat magazine winner for Blues Album of the Year, and an associate professor of guitar at the prestigious Berklee College of Music, Earl is on his mark here with an album that's especially heartfelt and warm. It's deep and moving, without being flashy.
— TOM HENRY, The Blade
Guidelines: Please keep your comments smart and civil. Don't attack other readers personally, and keep your language decent. Comments that violate these standards, or our privacy statement or visitor's agreement, are subject to being removed and commenters are subject to being banned. To post comments, you must be a registered user on toledoblade.com. To find out more, please visit the FAQ.