Canadian singer and composer Neil Young performing at the Roskilde Festival in Denmark.
ASSOCIATED PRESS Enlarge
THE VISITOR
Neil Young + Promise of the Real (Reprise Records)
Neil Young is unhappy.
That's good news for music fans.
Young is back and crotchety in The Visitor, a record that finds him lashing out against President Trump, environmental degradation, the fate of mankind, and nearly everything in between.
He doesn't go full-Grandpa Simpson here but it is close. Not that it's a bad thing.
Young sets the mood right out of the gate with "Already Great," a not-so-subtle dig at the President's campaign slogan "Make America Great Again."
"You're the promise land, the helping hand," Young sings in the first of many digs against the President. "No wall. No hate. No fascist USA."
With backing once again from the band Promise of the Real, the 72-year-old Young continues taking a stand on this his 39th record — something most pop stars young enough to be his grandchildren refuse to do.
He's also all over the map musically. The freewheeling journey finds Young exploring Caribbean and Latin music on "Stand Tall," the blues on "Diggin' a Hole," and funk on "When Bad Got Good." He also brings in a full-blown orchestra, but just for one song. Why overdo it?
Young closes the record with a familiar environmental anthem "Forever," hitting on themes he's returned to repeatedly over his 50-year career.
"Earth is like a church without a preacher," Young sings during the 10-minute song. "The people have to pray for themselves."
— SCOTT BAUER, Associated Press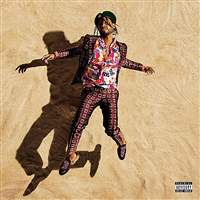 Miguel's "War & Leisure"
WAR & LEISURE
Miguel (RCA)
Until his newly released War & Leisure, Pedro, Calif.'s Miguel Jontel Pimentel — Miguel to you — was an electro-soul lover man making sensual moves in the midnight hour. Though he started off needing and pleading through a conventional R&B palette with 2010's All I Want Is You by 2015's Wildheart, Miguel was getting strange with Jim Morrison-like poetry about fantastic L.A. and weird scenes inside the gold mine to go with his robo-soul. War & Leisure luxuriates in its spare, psychedelic edge while trading synths and sequencers for echoing guitars, and finds its crooner/​songwriter trafficking, lyrically, in a lousy political and environmental climate.
Issues of immigration and inequity waft through the spacious "Now" like smog on a hot Los Angeles afternoon. The frisky funk of "Told You So" is a lover's lament that teaches with a whisper rather than preaches with a scream. That said, it's never as though Miguel's given up the slow sexy burn or the ribald come-on while addressing politics and consciousness. He's just mixing it up with sociocultural bon mots, as on the pre-sex epic "Pineapple Skies," and the fuzz-toned "City of Angels," the latter tale balancing the downright torrid with the unjustly tragic. With a buzz-worthy word here and phrase there, Miguel infuses War & Leisure with the vibe of a red-light news crawl, a really sexy news crawl.
— A.D. Amorosi, Philadelphia Inquirer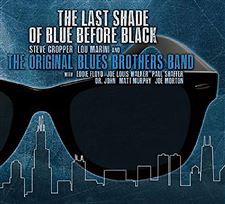 "The Last Shade of Blue Before Black" by The Original Blues Brothers Band
THE LAST SHADE OF BLUE BEFORE BLACK
Original Blues Brothers Band (Severn Records)
It's an interesting project supported by a star-studded lineup of guest musicians: Eddie Floyd, Joe Louis Walker, Paul Shaffer, Dr. John, Matt "Guitar" Murphy, and Joe Morton. And while the end result is far from something that takes blues listeners to places they've never been before, this highly likable disc is more about music than tongue-in-cheek humor.
Saxophonist "Blue Lou" Marini said people would have been "out of their minds" if they had tried telling him in 1978 he would still be traveling around the world and playing with the Blues Brothers Band today. But here they are with a CD he describes as a "labor of love" and still performing in various parts of the world, no doubt a testament to the power of the famous 1980 film, The Blues Brothers, starring the late John Belushi and Dan Aykroyd.
Shaffer, by the way, was the original bandleader.
This disc, which is recorded live, is not by any means a rehash of the movie; the closest it comes to a trip down memory lane is how it mixes in a couple of older blues songs with new originals.
The band began as a one-time musical skit that debuted on Saturday Night Live in 1978, when it was fronted by Belushi and Aykroyd as Jake and Elwood Blues, respectively.
There's no Jake and no Elwood here. And there have been personnel changes, as there are with any group almost 40 years later. Still, there's a lotta blues.
— TOM HENRY, The Blade
Guidelines: Please keep your comments smart and civil. Don't attack other readers personally, and keep your language decent. Comments that violate these standards, or our privacy statement or visitor's agreement, are subject to being removed and commenters are subject to being banned. To post comments, you must be a registered user on toledoblade.com. To find out more, please visit the FAQ.