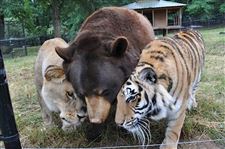 A bear, lion, and tiger have lived at Noah's Ark Animal Sanctuary in Locust Grove, Ga., since their rescue in Atlanta in 2001 during a drug raid. Through their shared suffering from improper confinement, they formed a bond and became known as the BLT.
An unusual trio of some of the world's top predators continue to enchant visitors at a sanctuary in Georgia as they remain steadfast in their friendship over the years.
In 2001, Atlanta police found an American black bear, an African lion, and a Bengal tiger in the basement of a home during a drug raid. The three, all cubs, were confined and suffering from a variety of medical issues. They were rescued and placed in Noah'‍s Ark Animal Sanctuary in Locust Grove.
"We will never know what all really happened to them," Kandi Allen, the sanctuary's social media director, said. "But they formed a bond with each other due to their mutual abuse and neglect."
All three had internal and external parasites and were malnourished. Now named Baloo, the bear was in the worst shape; his embedded harness had to be surgically removed.
The lion, named Leo, had an infected wound on his nose from improper confinement. Shere Khan the tiger wasn't wounded.
In Ohio, a 2012 law bars individuals from acquiring or transferring ownership of wild animals including bears, big cats, crocodiles, elephants, and most apes. Owners who had such animals could keep them if they acquired state permits and complied with rules on caging, insurance, and other restrictions.
The law also allows but restricts acquisition, ownership, and breeding of constricting snakes longer than 12 feet as well as certain venomous snakes.
In Lucas County, exotic animals have not been a problem. Outside of the various birds and reptiles available in pet stores and maybe a few peacocks, the Toledo Area Humane Society does not know of any exotic animals in the area.
"It doesn't mean they're not out there somewhere, but we haven't come across them," Executive Director Gary Willoughby said. "We've talked with the Toledo Zoo about what we might do if we run into something like that."
Similarly, Lucas County Canine Care & Control has not encountered any unusual creatures.
"I know of once, long ago, that we picked up a large snake, and once we went out on a call about a loose hog, but that is really it," Director Julie Lyle said.
Ms. Allen said the BLT —bear, lion, tiger — have never been separated since Baloo's surgery. During his absence, the two cats were distraught and cried for his return, she said.
The three predators — their species stemming from different continents — eat, play, and sleep together with few problems.
"They've figured out their own hierarchy," Ms. Allen said, adding that Baloo is dominant. "They'‍re very affectionate with each other, rubbing their heads together and licking each other."
Noah's Ark has another unusual animal friendship: Anne, another American black bear, and Doc, another Bengal tiger. Anne lost her mother in a tornado, while Doc was surrendered from a private zoo. The two have lived at the sanctuary for the last three years.
The animals'‍ unusual friendships remind visitors to practice tolerance and acceptance.
"If these apex predators get along, then why can't we?" Ms. Allen said.
Contact Alexandra Mester: amester@theblade.com, 419-724-6066, or on Twitter @AlexMesterBlade.
Guidelines: Please keep your comments smart and civil. Don't attack other readers personally, and keep your language decent. Comments that violate these standards, or our privacy statement or visitor's agreement, are subject to being removed and commenters are subject to being banned. To post comments, you must be a registered user on toledoblade.com. To find out more, please visit the FAQ.