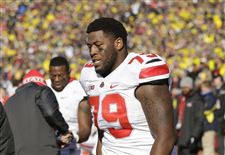 Ohio State offensive linesman Marcus Hall was ejected for fighting against Michigan. As he left the field he showed his middle fingers to the crowd, a move which has remained attached to his name.
ASSOCIATED PRESS Enlarge
COLUMBUS — Marcus Hall likes all of the attention. He just wishes it was for a different reason.
As the former Ohio State offensive lineman prepares for the NFL draft, he has emerged as an unlikely fan favorite on the autograph circuit.
A fringe of supporters can't get enough of his infamous double middle-finger salute to Michigan fans — an image Hall tries to forget but, for a few bucks, will graciously sign.
Four autographed photos of his admittedly mindless moment during last year's rivalry game are listed on eBay while the memorabilia company Sports Possessions, Inc., advertised a recent signing with the hook that Hall would sign the "most popular image of the year" for $15 or $25.
"I just show up to the signing like every other player, and that's what the fans want," said Hall, who has traveled to several events with various former teammates, including a recent signing at The Shops at Fallen Timbers. "I love the Buckeye fans, and they love me."
Still, he wants to be known not for his two fingers of fame but his play.
Hall hopes his workout at Ohio State's pro day Friday marked the first step in shifting the narrative.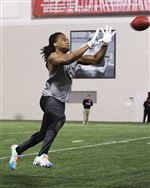 Bradley Roby goes through a series of drills hoping to impress scouts during Ohio State's pro day on Friday in Columbus. Some draft experts say he could go in the first round of the draft.
ASSOCIATED PRESS Enlarge
Before about 80 NFL coaches, executives, and scouts — including Eagles coach Chip Kelly and former Browns coach Rob Chudzinski, now with Indianapolis — he and 16 former Buckeyes went through a series of drills and interviews at the school's indoor facility.
The 6-foot-5, 313-pound Hall was far from the most heralded of the lot. His fellow starters on the offensive line — left tackle and St. John's graduate Jack Mewhort, center Corey Linsley, and guard Andrew Norwell — all project higher on NFL draft boards, as do the Buckeyes' three potential first-round picks. Running back Carlos Hyde, cornerback Bradley Roby, and linebacker Ryan Shazier also worked out, with Shazier especially swiping attention.
After not running the 40-yard dash at last month's NFL scouting combine, Shazier turned in an unofficial time of 4.38 seconds. The 6-foot-2, 237-pound outside linebacker later said he was "really happy" despite aggravating his strained hamstring.
Hall, though, will be followed with interest.
With one wild sequence last fall, he was no longer the feel-good story who had transformed from a badly out-of-shape 330-pound sophomore into a two-year starting guard on one of the nation's top offensive lines — a player whose character is lauded by everyone from Mewhort to coach Urban Meyer. He was that guy who lost it at Michigan. Every NFL team he meets with brings it up.
"I just tell them I got caught up in the moment," Hall said, speaking publicly for the first time since his Nov. 30 ejection for fighting."I don't try to give them this sob story or anything. I just lost it. I just feel like my love for this university and that game came out in the wrong way. I was just so wrapped up in this whole rivalry — and I shouldn't say wrapped up because it is a big deal — that I responded below the line, as coach Meyer would say."
Hall called his benching for the Buckeyes' loss to Michigan State in the Big Ten title game was "one of the hardest things I've ever had to do."
"I don't want anybody to think I'm proud of this," he said.
Nor does Hall want to be forever remembered for one image. But if history has other plans, he supposes there are worse fates.
Once his NFL future gains clarity — he is expected to be a late-round draft pick or an undrafted free agent — Hall said his agent will explore securing rights to profit from his raised-arm likeness. He has seen it on everything from shirts to a photo-shopped image of him riding a roller coaster.
"I try to stay off Twitter and all the social networks," he said, smiling. "I want it to die down, but it probably won't."
Contact David Briggs at: dbriggs@theblade.com, 419-724-6084 or on Twitter @DBriggsBlade.
Guidelines: Please keep your comments smart and civil. Don't attack other readers personally, and keep your language decent. Comments that violate these standards, or our privacy statement or visitor's agreement, are subject to being removed and commenters are subject to being banned. To post comments, you must be a registered user on toledoblade.com. To find out more, please visit the FAQ.