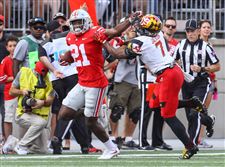 Ohio State's Parris Campbell holds off Maryland's J.C. Jackson in a win Oct. 7. Campbell did not play last week in Ohio State's loss at Iowa.
THE BLADE/JEREMY WADSWORTH
Enlarge | Buy This Image
COLUMBUS — Ohio State wide receiver Parris Campbell has been cleared to play after suffering a head injury in the Buckeyes' win against Penn State on Oct. 28.
Ohio State coach Urban Meyer said Tuesday that Campbell has been given the OK to return to football activities.
Campbell, who starts at slot receiver and also serves as OSU's kick returner, sustained the injury on a kickoff in the first quarter against the Nittany Lions, and immediately left the game. He did not return in OSU's 39-38 victory, and did not travel with the team for their trip to Iowa last week, a 55-24 loss.
"Obviously, he's one of the top kick returners in America," Meyer said on the Big Ten coaches teleconference. "He's such a tough guy and good kid. Any time he's not out there, it hurts, like with any player."
The Buckeyes, who fell to No. 11 in the Associated Press poll following the loss, will welcome No. 13 Michigan State to Columbus. The two teams currently are tied for first place in the Big Ten East Division with matching 5-1 conference records.
Contact Nicholas Piotrowicz at npiotrowicz@theblade.com, 419-724-6110 or on Twitter @NickPiotrowicz
Guidelines: Please keep your comments smart and civil. Don't attack other readers personally, and keep your language decent. Comments that violate these standards, or our privacy statement or visitor's agreement, are subject to being removed and commenters are subject to being banned. To post comments, you must be a registered user on toledoblade.com. To find out more, please visit the FAQ.