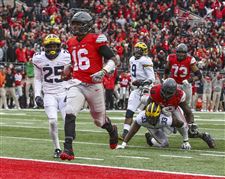 Ohio State quarterback J.T. Barrett is 3-0 against Michigan in his career. With another win, Barrett would be the only quarterback in Ohio State history to beat UM four times.
THE BLADE/JEREMY WADSWORTH
Enlarge | Buy This Image
COLUMBUS — Ohio State's J.T. Barrett could break new ground with one more victory against Michigan. If the Buckeyes win on Saturday in Ann Arbor, the redshirt senior would be the first Ohio State quarterback to defeat the Wolverines four times.
Barrett is three-for-three so far in his career, which included a 42-13 victory at Michigan in 2015. His 3-0 record in starts against Michigan ties him for the program lead.
RELATED: Buckeyes' focus turns to Wolverines | Big Ten rankings | Upsets have gone missing from OSU-UM series
Troy Smith (2004-06) and Terrelle Pryor (2008-10) most recently beat UM three times, though Ohio State's victory in 2010 was later vacated for NCAA rules violations.
Two-sport star Tippie Dye was the first Ohio State quarterback to beat UM three straight times, as Ohio State shut out Michigan in all three of his starts from 1934-36.
Barrett has the chance to be the first and only quarterback to beat UM for a fourth time. In his three previous tries, Barrett has accounted for 800 total yards and 8 total touchdowns, and completed 54 percent of his passes.
The Buckeyes (9-2, 7-1 Big Ten) have won five straight games against Michigan (8-3, 5-3) heading into Saturday's meeting.
Contact Nicholas Piotrowicz at npiotrowicz@theblade.com, 419-724-6110 or on Twitter @NickPiotrowicz
Guidelines: Please keep your comments smart and civil. Don't attack other readers personally, and keep your language decent. Comments that violate these standards, or our privacy statement or visitor's agreement, are subject to being removed and commenters are subject to being banned. To post comments, you must be a registered user on toledoblade.com. To find out more, please visit the FAQ.