COLUMBUS – Ohio State added to its already stellar 2018 recruiting class on Tuesday night when Florida safety Tyreke Johnson chose against 24 other offers.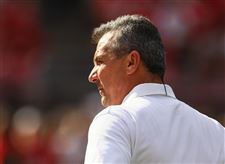 Ohio State head coach Urban Meyer and the Buckeyes have held the No. 1 recruiting class for the entirety of this season. Recruits can sign as soon as Dec. 20.
BLADE/JEREMY WADSWORTH Enlarge
Johnson, a four-star talent from Jacksonville, picked Ohio State over Clemson, Georgia, and Florida State, which he announced in a video. He also held offers from Alabama, Auburn, and Michigan, among others.
247Sports ranks Johnson as the fifth overall safety in his class and 38th-ranked player overall.
The wait is finally over! Click the link below to find out where im going👇🏾🤐https://t.co/N9jgARp53Z

— tyreke johnson (@Im_showtime_) December 5, 2017
The Buckeyes, who already had the No. 1 ranked recruiting class in the country, further strengthened the group with Johnson's pledge. Johnson became the program's 19th commit, 11 of which are ranked in the top 100 in the country.
The first signing period begins Dec. 20 for football players.
Contact Nicholas Piotrowicz at npiotrowicz@theblade.com, 419-724-6110 or on Twitter @NickPiotrowicz
Guidelines: Please keep your comments smart and civil. Don't attack other readers personally, and keep your language decent. Comments that violate these standards, or our privacy statement or visitor's agreement, are subject to being removed and commenters are subject to being banned. To post comments, you must be a registered user on toledoblade.com. To find out more, please visit the FAQ.