The late Justice William Brennan once told civil libertarian Nat Hentoff, "The evolving human standards of human decency will finally lead to the abolition of the death penalty in this country."
No such evolution has occurred in this country, particularly in the state of Ohio. Instead, lethal injection has replaced a number of other execution methods — firing squads, gas chambers, electric chairs — in the hopes it might offer a humane way for us to execute people.
However, executions across the country continue to use methods that do not provide a humane end for condemned inmates. Even where the executions were successful, witnesses have reported that prisoners displayed a great deal of distress before dying.
The state of Ohio plays a major part in this story, having botched an execution last week at the Southern Ohio Correctional Facility at Lucasville.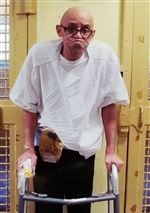 Ohio death row inmate Alva Campbell, who uses a walker and an external colostomy bag, had his execution date pushed after prison staff were unable to find a suitable vein.
Ohioans to Stop Executions Enlarge
Alva Campbell, a 69-year-old convicted murderer, was scheduled to be executed on Nov. 15. Campbell's execution was set for that morning, despite protests from his lawyers, who argued that Campbell's chronic health issues could pose a major problem.
Campbell uses a walker and an external colostomy bag, and he requires four oxygen treatments a day. According to The Intercept's Liliana Segura, "Of particularly grave concern were Campbell's veins, which his attorneys repeatedly said were not viable for inserting an IV."

VIDEO: Ohioans to Stop Executions argue that Campbell is too sick to be executed
The Ohio Department of Corrections made some accommodations. Campbell was provided a special pillow meant to assist his breathing as he lay on the gurney on which he would be executed by lethal injection.
But Campbell was not executed on Nov. 15.
According to his attorney, prison staff searched all over Campbell's body for a usable vein, prodding his body many times with needle pricks. Campbell's attorney said that the last needle prick, administered to Campbell's right shin, caused his client to "throw his head back and cry out in pain."
Campbell was returned to his cell at the Chillicothe Correctional Institution and, shortly thereafter, Gov. John Kasich rescheduled Campbell's execution for June 5, 2019.
Campbell is the second Ohio death row inmate to leave the execution chamber alive in the past decade. On Sept. 15, 2009, prison staff searched for two hours to find a suitable vein on Romell Broom. Eighteen attempts were made to insert an IV into Broom, all of which failed.
The attempted to execution proved to be traumatic for both Broom and the prison staff. A woman — known only as Execution Team Member 9 — ran from the chamber after a failed attempt to find a vein caused blood to run down Broom's arm.
In a self-published book, Broom described the ordeal in graphic detail. "At one point there were 15 people in the room, all intent on executing me," he wrote. "Some of them went out, but one guy in particular was really determined. He just kept on trying."
As Ms. Segura points out, the aborted executions of Campbell and Broom are two in a long line of botched executions conducted by the state of Ohio. When Toledoan Joseph Lewis Clark was executed in 2006, one of his veins collapsed and he reportedly told prison officials, "It don't work, it don't work, it don't work, it ain't working." The execution took 90 minutes. The 2007 execution of Christopher Newton required 10 needle pricks and lasted so long that Newton was given a bathroom break. In 2014, Dennis McGuire was executed using a then-untested cocktail of midazolam — a sedative that has since been linked to several other botched executions — and the painkiller hydromorphone. McGuire's family filed a federal lawsuit claiming that administering this untested concoction amounted to "cruel and unusual punishment," prohibited under the Eighth Amendment. McGuire went through "repeated cycles of snorting, gurgling and arching his back, appearing to writhe in pain," the lawsuit said. "It looked and sounded as though he was suffocating."
Supporters of the death penalty argue that this is all par for the course. All of these men — Campbell, Broom, Clark, Newton, and McGuire — were and are convicted killers, after all. The fact that Campbell was provided a pillow to assist with his breathing was seen by some as unnecessary coddling of a death row inmate.
While the crimes of which these men are convicted were horrific, it seems reasonable to ask if the methods used by the state of Ohio constitute "cruel and unusual punishment." Blown veins, inaccurate needle pokes, and untested drug cocktails surely suggest that each of these men may have been denied their basic Constitutional rights.
The U.S. Supreme Court disagrees. The Court reinstated capital punishment in 1976 and has twice held that lethal injections do not constitute cruel and unusual punishment — in 2008's Baze v. Rees and again in 2015's Glossip v. Gross.
In the Baze decision, the Court ruled that difficulties with lethal injection could be chalked up as "innocent misadventure."
"In other words," wrote Chief Justice John Roberts, "an isolated mishap alone does not give rise to an Eighth Amendment violation."
But the public record suggests that these "mishaps" are far from "isolated." And citizens are beginning to take note. According to a recent Gallup poll, 55 percent of the country supports the death penalty in this country, the lowest percentage since March 1972.
Read last week's 'Free Speech For Thee?' column
Although this column has been primarily used to discuss issues regarding free speech and the First Amendment, it would be inappropriate, I felt, to ignore other injustices in the dominion of civil liberties. The continued use of of lethal injection to execute prisoners would be one such injustice.
A wealth of evidence proves that lethal injection is often far from humane, and can in fact be quite cruel. With no more humane alternative in sight, perhaps it is once again time to reconsider the legality of executing people in this country.
Contact Will Tomer at wtomer@theblade.com, 419-724-6404, or on Twitter @WillTomer.
Guidelines: Please keep your comments smart and civil. Don't attack other readers personally, and keep your language decent. Comments that violate these standards, or our privacy statement or visitor's agreement, are subject to being removed and commenters are subject to being banned. To post comments, you must be a registered user on toledoblade.com. To find out more, please visit the FAQ.