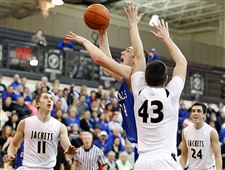 Anthony Wayne's Mark Donnal goes to the net against Perrysburg's Nate Patterson.
THE BLADE/JEREMY WADSWORTH
Enlarge | Buy This Image
Mark Donnal looked for one more big shot in a fourth quarter filled with them, this one a contested prayer with his Anthony Wayne team trailing Perrysburg by two in the dying seconds.
It went unanswered.
But a game that players would call the wildest of their careers could not end on such a note.
Donnal's 3-point shot caromed hard right. As the home crowd set loose with a full-throated roar that drowned out the buzzer, Generals guard Ose Omofoma waited.
The senior rebounded the ball a step outside the lane, faded and released just before time expired.
The shot tied the game, and led to what will surely go down as Anthony Wayne's most improbable victory in a Northern Lakes League race that promises to be intense.
In a brush between NLL unbeatens that seemed won and lost multiple times by both sides, the Generals stunned Perrysburg 71-65 in overtime.
PHOTO GALLERY: Anthony Wayne vs. Perrysburg
Down 14 to begin the fourth quarter, Donnal and Anthony Wayne (8-1, 5-0 NLL) rushed back with a 15-1 run to tie the game at 53. The Generals then went ahead 61-56, only for game to completely reverse course again.
The Yellow Jackets (8-2, 4-1) hit two free throws, Shane Edwards hit a tying 3-pointer with 45 seconds left and Nick Moschetti stole the ball and hit two free throws to put Perrysburg back ahead 63-61.
Cue the drama.
"Mark shot with time on the clock, fortunately," Omofoma said. "I was excited because this is my senior year and we had never beaten Perrysburg here at their place."
Donnal called it the "the craziest game I've ever been a part of in my high school basketball career."
After Perrysburg went ahead 65-63 in overtime, Anthony Wayne closed the game on an 8-0 run. Donnal tied the game with a pair of free throws, dumped it in to Bryant Byrd for the go-ahead score and iced the win with two final free throws with 4.5 seconds left.
It was a fitting finish, because no player was more clutch than Donnal, who finished with a team-high 20 points.
Held to six points through three quarters, the Michigan-commit began the fourth quarter purposefully.
"I knew that I had to step up in the fourth quarter if we were wanted to win this game," Donnal said. "I looked more to score there and I got some buckets and I just got it rolling."
The roll marked a 180 from the rest of the night. Moschetti scored a game-high 22 points and Edwards added 17 as Perrysburg raced out to 15-4 lead and appeared in complete control.
But Donnal scored on three straight possessions to begin the quarter, first inside, then on a mid-range turnaround and a baseline jumper. As a team, the Generals, who were without senior starter Grant Fiock scored on six of seven possessions.
Perrysburg, meanwhile, went the opposite direction. Its first six possessions of the quarter featured a miss, two turnovers, and three misses on the front end of one-and-one free throw opportunities.
AW went ahead 57-56, its first lead of the night, on two free throws by James Baker with 2 minutes left and would push the advantage to five points.
For the Yellow Jackets, their late push to go ahead two only made the outcome more painful.
"I think both teams wanted this one bad," Perrysburg coach Dave Boyce said.
Matt Fox scored 19 points while Baker added 17 points for AW. Each hit three 3-pointers.
"The fact these guys can come together on the road in Perrysburg is a testament to their character," AW coach Bryan Borcherdt said. "I've got threat kids. Wins and losses are one thing, but I will gladly get in the trenches with these guys any day."
Borcherdt said Fiock was no longer with the team.
Contact David Briggs at: dbriggs@theblade.com, 419-724-6084 or on Twitter @ DBriggsBlade.
Guidelines: Please keep your comments smart and civil. Don't attack other readers personally, and keep your language decent. Comments that violate these standards, or our privacy statement or visitor's agreement, are subject to being removed and commenters are subject to being banned. To post comments, you must be a registered user on toledoblade.com. To find out more, please visit the FAQ.