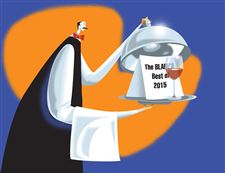 BLADE ILLUSTRATION/JEFF BASTING Enlarge
Each week the Blade dispatches one of its critics to an area restaurant to report on what's new, what's good, what works, and, sometimes, what doesn't.
Today, we look back at the year in dining reviews, offering capsules on the eateries we found most enticing. A key factor in any review is how much you get for what you spend. Expectations inevitably rise with increased cash outlay.
Restaurants are judged on a five-star system and, not surprisingly, only a handful earned top marks. But those in the four and three-plus star range also deserve notice. They may need to pay attention to some of the details inherent in the dining experience, but we found that, in the end, they delivered the goods.
Some are new, most are old favorites. All hope you'll walk through their doors.
5 STARS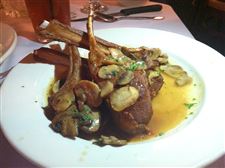 Lamb chops from Angelo's Northwood Villa in Erie, just north of Toledo.
● Angelo's Northwood Villa has not updated its decor probably since its speakeasy years, but that is half of its charm. Tucked away in Erie, it has several elegant eating rooms and honors the old reliables of supper clubs, which were once popular from the 1930s to the 1970s: seafood, steak, and glistening pastas. Opt for the house-made tiramisu to polish off your fine dinner. It also pays homage to some delicacies, such as frog legs and escargot. It has a convivial atmosphere on Friday and Saturday nights with live music. Be sure to check out the hidden cigar room. $$$ 5 stars.
Spicy tuna roll, uni nigiri, and vegan roll from Kengo Sushi & Yakitori on St. Clair St. in downtown Toledo.
● Kengo Sushi & Yakitori, 38 S. St. Clair St., has made its mark in the Warehouse District since its opening in February. Chef Kengo Kato serves up fresh sushi and grilled items daily to the cozy crowd that visits the 23-seat restaurant, including fresh raw fish and grilled chicken and vegetable items. The flavors cover all the taste-bud fronts and are a culinary experience not to be missed. $$$ 5 stars.
4-4.5 STARS
● Treo, 5703 Main St., Sylvania, wouldn't be out of place in one of Manhattan's trendier neighborhoods, say Tribeca or SoHo. The delicious food spans Italian, American, and French-inspired dishes, and the atmosphere is amiably upscale and pleasantly low key. Your biggest challenge will be deciding what dish to order — pasta? beef Wellington? filet mignon? — or to skip dinner altogether and go for the decidedly affordable Sunday brunch menu. $$-$$$. 4.5 stars.
● Kyoto Ka's downtown location, 300 Madison Ave., is a scaled down version of the popular Sylvania Township original. For sushi and sashimi, freshness is key, and Kyoto Ka delivers while managing to stay budget-friendly. The menu offers a variety of rolls and several options for diners who choose to skip the raw fish. $$-$$$ 4 stars.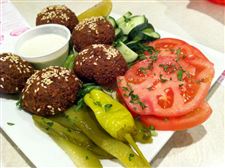 Falafel plate from Yala Kol restaurant on Holland-Sylvania Rd.
● Yala Kol, 3200 N. Holland-Sylvania Rd. You might breeze by if you don't know any better, but the food at Yala Kol is worth checking out. From traditional Mediterranean fare that includes gyros, garlicky hummus, and chicken shawarma, to rich, savory dinners of succulent meats and fluffy rice, this newly established restaurant is worth checking out. Ask for the homemade garlic sauce on the side with everything. $$ 4 stars.
● Mancy's Bluewater Grille, 461 W. Dussel Dr., Maumee, is the sort of place you go for special occasions, with its low-key lighting and upscale pricing. Although you can get delicious steaks and pork chops, the menu mostly stresses seafood, from mahi mahi and walleye to oysters, lobster, and everything in between. The made-from-scratch pizza dough rolls help make up for the occasional misstep, such as a bowl of soup served lukewarm instead of hot. A small quibble for an otherwise exceptional eatery. $$$ 4.5 stars.
● Authenticity is the name of the game at Rose Thai, 5333 Monroe St., which excels at the myriad flavors of the region ranging from sweet and sour to hot and salty. Whether your taste runs to pork and chicken or vegetarian and seafood, the fare here is delivered with ample flavor. Standouts include the Pad Thai and grilled shrimp fantasy. For something different, check out the duck curry. The serene, understated atmosphere is a bonus. $$ 4 stars.
Ernie's Chubby Double Decker from Chubby's American Grill.
● Chubby's American Grill, 535 W. Alexis Rd., is a new West Toledo restaurant serving large portions of deliciousness that your doctor may not approve of, but your gullet most assuredly will. Highlights are the signature Reuben balls and pulled pork sliders; the Mac & Crack — mac & cheese with andouille sausage and nice-size shrimp in a five-cheese sauce — is comfort food on steroids; the gigantic Chubby's Slammer, one of four plate-filling chicken chunk options, and the towering Ernie's Chubby Double Decker cheeseburger, featuring two 8-ounce patties and plenty of fixings. $$ 4 stars.
● POP Grille, 3309 Holland-Sylvania Rd., specializes in inventive Asian fusion dishes that pack plenty of POP, perfectly blending sweetness with a touch of heat. The salmon, smoked in house, is among the highlights in the Smoke Salmon Wrap ($14) and the Pagoda Salmon ($9). The wontons, available in pork or chicken ($11), also shouldn't be missed. $$-$$$ 4 stars.
● Greg's Grill, 3243 Sylvania Ave., serves up mom and pop classics with flair. The BBQ burger and Cuban sandwich won us over during lunch, and you can't miss with the breakfast menu. $$ 4 stars.
Public House Omelet from Public House Restaurant in Monroe.
● Public House, 138 N. Monroe St., is a risk-taking restaurant open 7 a.m. to 10 p.m. daily in downtown Monroe. The New American menu is full of locally made fare that dares you to try something different each visit. The Public House Burger, hangar steak, and mac & cheese are can't-miss items. Most breakfast selections are top-notch as well. $$-$$$ 4 stars.
● Muna Market, 5434 Monroe St., Sylvania Township, is like a corner bodega, with the bonus of a cafeteria-style restaurant. It serves traditional Lebanese and Mediterranean dishes that are fragranced with herbs and spices, made on the spot, and crowned with fruity olive oil. All the usual suspects are here: Lemony hummus, grape leaves, minty fresh tabbouleh, chickpea and other legume dishes. It also uses fresh halal meats for its shish kababs and kibbe recipes. Traditional desserts are made in-house. Weekend specials are chocolate and strawberry cream croissants. After dinner, check out its olive bar, specialty imported foods, and fruit display. $-$$ 4 stars.
● Inky's Italian Restaurant, 3945 N. Detroit St., would be right at home in a Godfather movie, with its soft lighting, red decor and menu heavy on foods from the Old Country. Abundance is the name of the game, whether it be heaping plates of spaghetti and meatballs or palate-pleasing chicken Parmesan. There's an occasional miscue on the spices, and the dessert menu is limited to cheesecake. Still, you'll readily forgive those flaws given what you get for your money. $$. 4 stars.
● El Tipico Restaurant, 1444 South Ave., was one of the first Mexican restaurants in the area when it opened its doors in 1968. A family operation it treats food as a labor of love and makes every effort to transport your taste buds to Mexico by using fresh and organic ingredients. All the usual suspects are here, tacos, tamales, homemade mole sauce, burritos, and signature rice and beans, as well as fish dishes. Children, gluten-free eaters, and vegans can all find something here that will satisfy the tummy. It also offers a full breakfast menu on Saturdays. $$, 4 stars.
Pricing code
In our ratings, the restaurant's average price is listed in dollar signs ($), from one to four, reflecting a range from inexpensive to expensive. These ratings are based on the cost per person of an appetizer or dessert entree, a non-alcoholic beverage, and tax and tip.
Here is the key:
$ — inexpensive (less than $15).
$$ — moderate ($15 to $25).
$$$ — moderately expensive ($25 to $40).
$$$$ — expensive (more than $40).
● Freshness rules at the Orchard Restaurant & Bar, 3266 Northeast Catawba Rd., in Ottawa County's Catawba Island Township. Both food and drink involved fresh fruits, vegetables, herbs, and spices for an exceptional clean eating experience. Dishes are well thought out and prepared with care. $$$, 4 stars.
● It's all hail to the burger and bourbon at Bar 145, 5305 Monroe St., where patrons can build a customized burger with more than 50 toppings that include several forms of bread, vegetables, cheeses, other meats, house-made sauces, and rubs. $$, 4 stars.
3.5 STARS
● Thai Basil, 1855 S. Reynolds Rd., reminds diners that there is some great Thai food out there in Toledo — you just have to find it. The downfall was inconsistency in working with the less experienced Thai food connoisseur about spicing levels, but the food overall was exceptional in flavor and presentation. Highly recommended is the traditional Thai pad and many of the establishments' appetizers. $$ 3.5 stars.
● Sabor Brazilian Grill & Desserts, 4751 Monroe St., charts new dining territory in Toledo with its modified Brazilian steakhouse theme, but don't expect food that celebrates the spice of life. Most dishes are tasty in a low-key fashion, with minimal spiciness and an emphasis on steak, lamb, chicken, vegetarian and rice, lots of rice. That said, it's likely to be a favorite with those who don't need their taste buds to do the samba. Think simple foods at a highly reasonable price. $$ 3.5 stars.
The Italian Trio wrap from Piada Italian Street Food on Central Avenue.
● Piada Italian Street Food, 3330 W. Central Ave., is Italian food fast, but not necessarily fast-food Italian. The assembly-line themed restaurant churns out piadas, bowls of pasta, Italian sandwiches and salads using fresh, colorful ingredients in an on-the-spot environment similar to its Mexican food counterpart, Chipotle. This chain holds steady in its efforts to give its patrons a decent meal, quickly. $$ 3.5 stars.
● South Side 6, 737 S. Main St., Bowling Green, is more than the typical six-pack shop. It boasts the "best gyro in the world" and dishes out tasty, generously portioned Mediterranean and American entrees for takeout and delivery. The Hummus Heaven, a layered dip with sizable chunks of grilled chicken, parsley, tomatoes, onions, and then topped with crispy seasoned pita chips, shouldn't be missed. $-$$ 3.5 stars.
Potato skins from Berger's Olde Tyme Bar and Grill.
● Berger's Olde Tyme Bar and Grill, 1742 W. Laskey Rd., is a neighborhood bar that places as much emphasis on its food and oversize burgers as its drinks. It serves good ol' American grub and specialty burgers as well as hot submarine sandwiches, salads, chicken wings, and all the fried food greats: onion rings, deep-fried green beans, and mozzarella sticks. Open since 1993, it has been known to cater to the factory and plant crowd, giving the working man and woman a place to unwind after a hard day's work. And we salute them for that. Unpretentious, warm, and inviting, you can find a spot among the giant booths to kick back, refresh in a cold brew, and nosh on burgers and fries. $-$$ 3.5 stars.
● Poco Piatti, 3155 Chappel Drive in Levis Commons, at times reminds you of an assembly line of food that has lost its individual touch. Despite this, the restaurant offers enough menu items for everyone to find their niche, and there was more great than not-so-great. Diners choose from a vast menu of small plates and entrees, including traditional hummus, tuna, lamb sliders, kafta, and kabobs. The pillowy bread is not to be missed. In the end, this Mediterranean eatery is worth visiting. $$-$$$ 3.5 stars.
● Two Foxes Gastropub, 121 S. Main St., in Bowling Green has 11 burgers and a handful of pub sandwich favorites on the menu — we highly recommend the Poblano Pollo Loco and liked the burgers for the most part. It's a friendly spot to enjoy a craft beer and an ever-changing menu. $$ 3.5 stars.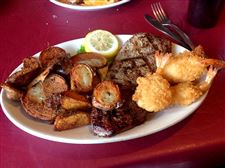 10 oz. sirloin with shrimp from Doc's restaurant in Tontogany.
● Doc's Food & Spirits, 18625 Main St., Tontogany, Ohio, is everything you might expect from a small-town restaurant bar. The tender fall-off-the-bone ribs, beef tips, and sirloin stand out on varied menu of traditional comfort foods and Americanized Mexican favorites. The welcoming and friendly service makes the 30-minute drive from Toledo well worth the trip. $$-$$$ 3.5 stars.
● Easystreet Cafe, 104 S. Main St., has been a Bowling Green staple for decades as a result of its top-notch sandwiches. The burgers (made with beef, buffalo, or elk) alone are worth a trip. The Chubby Checker Club — featuring a smorgasbord of deli favorites — the rich, beefy French onion soup, and the fried pickle appetizer also stand out on the lengthy menu. $$ 3.5 stars.
● Manhattan's Restaurant, 1516 Adams St., brings a taste of the Big Apple to the Uptown neighborhood. Dinnertime at the restaurant offers intricate appetizers, main dishes, and desserts that offset the more subtle lunch options. For something that screams New York, a short trip to Toledo might do the trick to satisfy the East Coast craving. $$-$$$ 3.5 stars.
● Calvino's Restaurant and Wine Bar, 3143 W. Central Ave., combines Mediterranean with Italian, and throws in a wine bar — yet the mix works. From strombolis, specialty pizzas to the mix-and-match pasta dishes, everything is served fresh and hot in a crowded, casual atmosphere. The warm, soft breads are what makes a visit worth it. $$ 3½ stars.
● La Chalupa, 6186 N. Summit St. In a city with no shortage of Mexican restaurants, this Point Place eatery stands out for its robust food, pleasant decor, and solid service. Whether your taste runs to vegetarian fajitas or meat-filled chimichangas the size of a baby's forearm, La Chalupa delivers on volume and taste. Standout dishes include the Chorizo con Queso appetizer and Chile Colorado, tender beef spicy enough to make your taste buds do a hat dance. $$, 3.5 stars.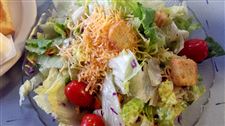 Fresh garden salad from Schmucker's Family Restaurant.
● Schmucker's Good Food, 2103 N. Reynolds Rd. Schmucker's has been serving robust comfort food in South Toledo since 1948, offering a menu for just about every taste. There are filling breakfast specials, burgers to do Wimpy proud, homestyle dinners (roast beef, breaded scallops), and steaks that maintain their flavor even when a tad overcooked. If you're a pie lover, this is truly the place to go, with 23 varieties offered by the slice most days, and a catalog of 55 that the restaurant draws from. Schmucker's may not be the fanciest gal at the ball, but it surely knows how to dance. $, 3.5 stars.
● Hot Sizzling Wok, 2333 W. Laskey Rd. After 24 years in business, this west Toledo Chinese restaurant has gotten the basics down pat: Good service, abundant food, and a pleasant atmosphere. The glazes may be a bit heavy on dishes like sesame chicken and beef, but the expansive menu and delicious soups (especially the egg drop) make it a welcome destination for dishes ranging from wood-smoked duck to Kung Pao shrimp and scallops. Even if you arrive hungry, you can pretty much count on having leftovers. $$, 3.5 stars.
● Rock'N Whiskey, 2640 W. Laskey Rd., is the place to go for good grub and a diverse menu of drinks. While there is nothing remarkable about the menu here, the classic sandwiches, burgers, appetizers, and wings will satisfy. Beers, whiskey, moonshine, and other specialty drinks dot the saloon's menu, and almost nightly entertainment rounds out the eating event. $$, 3.5 stars.
Guidelines: Please keep your comments smart and civil. Don't attack other readers personally, and keep your language decent. Comments that violate these standards, or our privacy statement or visitor's agreement, are subject to being removed and commenters are subject to being banned. To post comments, you must be a registered user on toledoblade.com. To find out more, please visit the FAQ.