Isaac Underwood, a Statue of Liberty mascot for Liberty Tax Services on Monroe Street near Auburn Avenue, promotes the company's services the day after the office was robbed. Although he has been a Liberty employee for three years, Thursday, the day of the holdup, was his first at the site.
The Blade/Jeremy Wadsworth
Enlarge | Buy This Image
Isaac Underwood may not know how to deal with complicated tax issues, but he does know a thing or two about trying to right an injustice.
Mr. Underwood's job with Liberty Tax Service is to wear a Statue of Liberty costume and stand along Monroe Street near Auburn Avenue to advertise the service, directing those with complex tax questions inside the store.
But Thursday evening, he found himself chasing a man and a woman who police say held up Mr. Underwood's employer with a curling iron concealed in a washcloth.
"My first instinct was to run after them," Mr. Underwood, 27, said.
The robbers escaped down an alley, but police issued an arrest warrant for Sonya Watson, 41, charging her with one count of robbery. She was not in custody as of late Friday night.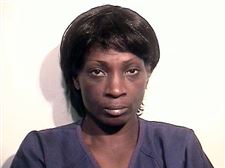 Sonya Watson.
Employee Stephanie Knight identified Watson of Macomber Street in Toledo to police as a customer whose taxes she had prepared Monday.
Ms. Knight said a woman and a man went into Liberty Tax Service, 3365 Monroe St., just minutes before the 7 p.m. closing, wearing black cloths over their faces.
"I just didn't think anything of it because it's cold outside," said Ms. Knight, 28, who has worked at Liberty for two years.
Noting other customers, the man and woman sat down in a lobby area and removed the cloths from their faces, Ms. Knight said.
When one of the customers walked out, the duo recovered their faces and approached Ms. Knight.
Ms. Knight said the suspect pointed the concealed curling iron at her and demanded money.
Ms. Knight, thinking the woman had a gun, opened a drawer to comply.
However, she said that when a friend who was waiting for her in the office gave her a look that said the woman did not have a gun, she closed the drawer.
Police say that the woman then told her male accomplice to shoot Ms. Knight.
"He looked confused," Ms. Knight said. "It wasn't a thought-out plan."
Still, the man approached, but was stopped when Ms. Knight's friend picked up a chair and hit the man with it.
The woman suspect came at Ms. Knight, striking her on the wrist with the curling iron, according to police.
Ms. Knight picked up a nearly full 20-ounce bottle of Pepsi and threw it at her, striking her on the forehead, according to police reports.
During the commotion, according to reports, the female suspect opened a drawer at Ms. Knight's desk and allegedly stole $280.
"My issue was, I didn't want her to get anything," Ms. Knight said. "I didn't want her to get out of the store with what she was going for."
The man and woman ran out the front door. The pair split up but reunited near the back of the store, Ms. Knight said.
Mr. Underwood saw the commotion and ducked his head inside the store, which Liberty shares with Munchies Wings & Gyros.
"I opened the door and they said we'd been robbed," said Mr. Underwood, who then threw off his cloth-crown head covering and gave chase in his Statue of Liberty costume until the thieves disappeared down an alley.
"That's [a] messed-up thing," Mr. Underwood said of the robbery. Although he has been with Liberty for about three years, Thursday was Mr. Underwood's first at the Monroe Street location.
Thursday wasn't Mr. Underwood's first brush with fleeing holdup suspects. Last year, when he was a Statue of Liberty mascot on Laskey near Miracle Mile shopping center, a pair of thieves ran past him after robbing a nearby fast-food restaurant. He said they disappeared before he heard a woman shouting about the holdup.
Watson reported herself as a victim of theft hours before she became a suspect in the Liberty heist, police said.
About 2 p.m. Thursday, she told police she was robbed by an acquaintance who demanded the gift card she got after returning merchandise to Home Depot, 1001 W. Alexis Rd.
The man reportedly gave Watson a ride and wanted the card as payment, but when Watson refused, the man pulled out a small black revolver and pointed it at her, according to a police report.
Watson told police she injured her wrist as she struggled with the man for the gun.
She then jumped from the vehicle and the man drove off with her purse, the report states.
A man who answered the phone at the number for Watson listed on a police report, said she was unavailable.
Contact Taylor Dungjen at: tdungjen@theblade.com or 419-724-6054.
Guidelines: Please keep your comments smart and civil. Don't attack other readers personally, and keep your language decent. Comments that violate these standards, or our privacy statement or visitor's agreement, are subject to being removed and commenters are subject to being banned. To post comments, you must be a registered user on toledoblade.com. To find out more, please visit the FAQ.