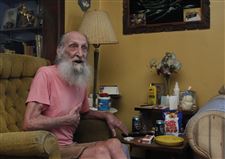 Dallas Watts, 78, shows where he was kicked in the gut as he talks about his assault that occurred last Sunday.
The Blade/Lori King
Enlarge | Buy This Image
Police say the robbery and assault of a 78-year-old Toledo man by six juveniles were not racially motivated and his account of what happened might have been exaggerated.
On Thursday, Toledo police Capt. Wes Bombrys said investigators determined the crime involving Dallas Watts was not racially motivated. On Friday, police Sgt. Phil Toney agreed, adding, "After the investigation, it was revealed that the story told by Mr. Watts was somewhat exaggerated, although he was assaulted and robbed. His story as to how everything happened appears to be a little bit exaggerated.
" … It's causing issues here that shouldn't be here," Sergeant Toney said. "Let the police and courts do what they need to do and handle it. The people who robbed and assaulted Watts have been charged."
The teens, one white and five black according to police, ranged in age from 11 to 17. The 11-year-old and the 17-year-old were charged with robbery.
RELATED ARTICLE: Man, 78, recounts assault by 6 youths in E. Toledo
The story, which was first made public Tuesday, drew wide response from people across the country, many of whom believed all of the juveniles were black or demanded the race of the youths be part of the reporting.
"People should not be jumping to conclusions about what they think is going on," Sergeant Toney said. "They don't have all the facts and they really should step back and let the police do their job. That's one of the main problems, is people jump to support this or that, and they don't even have all the facts."
It is The Blade's policy not to include race in a crime-related story unless the incident is labeled, by police, as racially motivated or when describing an at-large suspect. It is also The Blade's policy not to identify juveniles by name unless they are charged with a felony offense such as murder.
Mr. Watts told police that he was walking home from an East Toledo gas station after buying a treat for his dogs when the six youths boxed him in and assaulted him after he made mention of Trayvon Martin, a 17-year-old who was shot dead by a Neighborhood Watch captain in Sanford, Fla., in February.
Mr. Watts said he was punched and then repeatedly kicked.
The stories given by the youths differ significantly from Mr. Watts' account.
Sergeant Toney said that, after the incident, the boys were "snatched up" so quickly there would not have been time for the youths to "get their story straight."
The youths told police -- with slight variations -- that Mr. Watts approached the boys and engaged them in conversation about their hooded sweatshirts and Trayvon Martin and allegedly used a racial slur.
One of the boys allegedly told the man to "keep walking" and another slapped Mr. Watts, causing him to fall.
One of the boys took the pork rinds that Mr. Watts had purchased, and the youths fled.
"Somewhere in the middle the truth is there," Sergeant Toney said.
Two youths were charged with robbery after the incident and on Monday were ordered to be held at the Lucas County Juvenile Justice Center.
Mr. Watts did not go to the hospital after the alleged assault, Sergeant Toney said.
Mr. Watts said Friday he did not seek medical attention but said it was because he could not afford it.
When asked to comment on authorities' assertion that he might have exaggerated the incident, Mr. Watts stuck to his story.
"If they want to say it didn't happen, then fine," Mr. Watts said. "Nothing happened. They didn't hit me, they didn't kick me, they didn't rob me. Nothing happened. It's in the Twilight Zone."
A mother of one of the youths said, "Everybody in Toledo is on a witch hunt for these boys," and said that she fears people will try to retaliate against her son and the other boys.
"We want the truth to come out and for this to end," she said. "Enough damage has been done to this community and we need to move on. We don't want any more problems. We don't want to see anyone rally on either side. … We just want it to stop."
Contact Taylor Dungjen at: tdungjen@theblade.com, 419-724-6054, or on Twitter @tdungjen_Blade.
Guidelines: Please keep your comments smart and civil. Don't attack other readers personally, and keep your language decent. Comments that violate these standards, or our privacy statement or visitor's agreement, are subject to being removed and commenters are subject to being banned. To post comments, you must be a registered user on toledoblade.com. To find out more, please visit the FAQ.