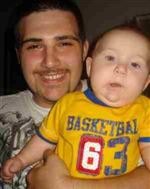 Jorge Duran, Jr., holding his son, Jorge Duran III. Duran shot and killed his son and ex-girlfriend, Amber Jones.
Lake Township police today identified the victims who died and gave more details about a domestic dispute at an apartment complex that also resulted in the suspect being killed by police.
Amber Jones, 26, and her three-year-old son, Jorge Duran III, were shot to death by Jorge Duran, Jr., 24, of Toledo, during the incident at the Eastpointe on the Mall complex Lake Township officials said during a news conference today.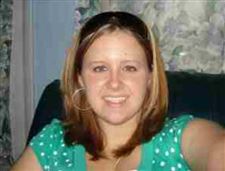 Amber Jones
According to police officials, the first 911 call came in at 9:34 p.m. Tuesday night from a neighbor, who indicated there were multiple victims. A second 911 call was made from one of the victims, police said.
Three officers initially responded to the scene and found an injured 26-year-old male outside a building in the complex. One officer stayed with that victim and two others approached the building, where they were met by the armed suspect. There was an exchange of gunfire and the suspect was killed but police officials today did not know who fired first or how many total shots were fired.
Police officers then went to an apartment at 3749 Laketon Terrace where they found the boy and two other victims, a 39-year-old man and a 45-year-old woman. The boy was taken to an area hospital where he was pronounced dead. Police did not release the names or any other information about the three victims who were shot but survived.
About 20 minutes after entering the first apartment, police learned of a possible second crime scene location. That apartment was entered by the regional SWAT team where Amber Jones was found dead.
Guidelines: Please keep your comments smart and civil. Don't attack other readers personally, and keep your language decent. Comments that violate these standards, or our privacy statement or visitor's agreement, are subject to being removed and commenters are subject to being banned. To post comments, you must be a registered user on toledoblade.com. To find out more, please visit the FAQ.