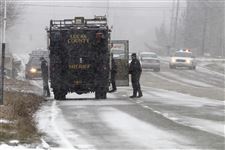 Emergency responders wait near 8000 Airport Highway, where an armed man has barricaded himself in a house.
A nearly seven-hour standoff in Springfield Township ended peacefully today after law enforcement members used tear gas, entered a home, and removed the occupant.
The man, who has not yet been identified, was taken at 3:15 p.m. on a stretcher from the scene along Airport Highway between Albon Road and Timberwolf Drive. The portion of Airport Highway was closed during the standoff.
Authorities said the man was armed and had barricaded himself inside his home before 9 a.m. today.
Nearby Crissey Elementary was temporarily locked down as a precaution.
Officers from the Lucas County Sheriff's Office and the Ohio Highway Patrol were called to the scene, as well as a bomb squad and SWAT team.
A trooper at the scene said at one point the man was threatening suicide. Family members waited outside the home during the standoff.
Guidelines: Please keep your comments smart and civil. Don't attack other readers personally, and keep your language decent. Comments that violate these standards, or our privacy statement or visitor's agreement, are subject to being removed and commenters are subject to being banned. To post comments, you must be a registered user on toledoblade.com. To find out more, please visit the FAQ.