41.6703
-83.53487
Police found 7 shell casings in road near Moore and Elm streets.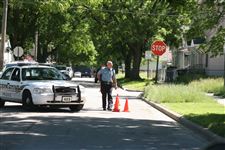 A Toledo Police Officer marks shell casings with cones at the corner of Moore and Elm streets in North Toledo.
THE BLADE/LISA DUTTON
Enlarge | Buy This Image
The man shot today in North Toledo has been identified by police as Duwaynn Payne.
The victim was shot at least once and taken in a private vehicle to Mercy St. Vincent Medical Center, where he was treated and then released.
Mr. Payne told police he was shot at Moore and Elm streets, in North Toledo, at about 11:15 a.m.
Police were investigating the shooting, marking at least seven found shell casings in the road. The circumstances of the shooting were also not immediately clear.
The shooting was initially reported as a drive-by, but police also said a white car that they are looking for, might have been the one shot at. Glass from a car window and tail light was found in the road.
A neighbor, Clark Border, 56, said he was inside his home, with his dog, playing solitaire when he heard about five gunshots.
He grabbed a "machete," which he said he uses to cut down weeds, and went outside to investigate. Mr. Border said he saw a man on a red 10-speed bicycle "pedaling as fast as he could pedal" on Moore, headed toward Stickney Avenue.
It is unclear if the bicyclist was involved. "I was scared the heck out of," Mr. Border said. " ... The neighborhood isn't getting any better."
Police said the victim's story and accounts from witnesses "don't match up completely."
Guidelines: Please keep your comments smart and civil. Don't attack other readers personally, and keep your language decent. Comments that violate these standards, or our privacy statement or visitor's agreement, are subject to being removed and commenters are subject to being banned. To post comments, you must be a registered user on toledoblade.com. To find out more, please visit the FAQ.