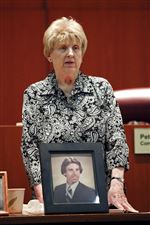 Toledo resident Angela Franks speaks during a panel dis-cussion about how her son, Joe, was struck and killed by a drunken driver. The Lucas County Traffic Safety Program sponsored the discussion last week in City Council chambers at One Govern-ment Center.
THE BLADE/JEFFREY SMITH
Enlarge | Buy This Image
Angela Franks hasn't roasted a turkey and gathered her family together on Thanksgiving Day since 1990.
That year, her only son, Joe, 24, was killed when a drunk driver slammed head on into his friend's car on Alexis Road just after midnight on Thanksgiving. She is comforted by the fact he never left the house without saying good-bye, and that night was no exception.
"He got ready to leave, and he says, 'Mom, I'm not going to be gone long because I know we're having a lot of people over tomorrow, so I'll be home early,' " she recalled.
Law enforcement officials say Thanksgiving Eve is the worst night of the year for drunk driving — more problematic than St. Patrick's Day or even New Year's Eve.
"With New Year's Eve, a lot of revelers stay in, or go to a hotel to party, because the message has been out there," said Deputy Mark Woodruff, coordinator of the Lucas County OVI Task Force. "St. Patrick's Day is amateur night — everyone drinks green beer no matter what night of the week it falls on. It's crazy, but I don't think anyone expects the impact of Thanksgiving, with people getting together and kids coming back from college."
Mrs. Franks, now 72, thinks of it every year.
While she and her family escape the memory of her son's tragic death by spending Thanksgiving at a casino in Windsor, Ont. — "with all the bells and whistles and people hollering, you can't think of a thing" — she has shared his story every month for years with motorists convicted of drunken driving as part of the Lucas County Traffic Safety Program's victim-impact panel.
Her message, she said, is not that alcohol is bad.
"I'm not against drinking," Mrs. Franks said. "Drink all you want, but stay out of the car or, if somebody you're with drinks, don't get in the car with them if they're going to drive."
It's a message she can't repeat often enough, or loudly enough.
Nationwide, deaths from crashes involving drunk drivers increased 4.6 percent in 2012 — killing 10,322 people compared to 9,865 in 2011, according to the National Highway Traffic Safety Administration.
In Lucas County, 18 people died in 14 drug-related or alcohol-related crashes last year — up from 12 deaths in 10 crashes in 2011.
Deputy Woodruff said there are alternatives for those who want to get together and have drinks with family and friends for the holidays. A designated driver is the best option, he said, but there are always taxi cabs — some of which offer free rides for the holidays.
AAA Northwest Ohio is offering a "Tipsy Tow" service Wednesday and Thursday. Impaired motorists may call 1-800-AAA-HELP and say they need a Tipsy Tow. The auto club will provide a one-way ride for the driver and his or her vehicle for up to 10 miles.
Deputy Woodruff said most law enforcement agencies plan extra patrols for Thanksgiving, and sobriety checkpoints will be staged Tuesday at Secor Road and Bancroft Street and at Dorr Street and McCord Road.
"We'll be starting early — probably at 7 p.m. — because of the nature of the beast and what we're dealing with, we'll probably run until midnight," he said.
Deputy Woodruff said paying for a taxi or a service like bemydd.com is money well spent.
"A DUI will cost you about $10,000 by the time you go through court, pay the attorneys, and pay your increased insurance and reinstatement costs, classes, and all you have to do," he said.
And that's assuming you don't kill or injure someone.
Beth Hite, 64, of Whitehouse was the victim of an uninsured drunk driver who went left of center on Stitt Road and struck her car Oct. 17, 1995. She nearly lost her right leg and left hand, and 18 years and 14 surgeries later, she is still recovering physically.
Her emotional recovery continues too. Like Mrs. Franks, she speaks to those convicted of drunken driving each month.
"I tell them when I introduce myself that I'm going to talk to them about choices, consequences, and costs — the three C's," Mrs. Hite said. "I stick very close to my script because it has been 18 years, but I never know how I'm going to react when I'm telling the story."
The drunk driver who crashed into her car spent five years in prison and lost his driver's license for life.
Mrs. Hite, who works as a senior appeals coordinator for Paramount, said she chooses to look at the bright side and tries to make a difference, rather than be bitter and resentful about what happened to her.
"That's why I speak with the [victim-impact] panel," she said. "The last thing I leave with the group — because I'm the last speaker, usually — is if you haven't heard anything else that's been said tonight, hear this: If you think you can drink and drive impaired, you are dead wrong. Then I repeat that. I ask them to use whatever brought them to the impact panel as a wake-up call."
Contact Jennifer Feehan at: jfeehan@theblade.com or 419-213-2134.
Guidelines: Please keep your comments smart and civil. Don't attack other readers personally, and keep your language decent. Comments that violate these standards, or our privacy statement or visitor's agreement, are subject to being removed and commenters are subject to being banned. To post comments, you must be a registered user on toledoblade.com. To find out more, please visit the FAQ.